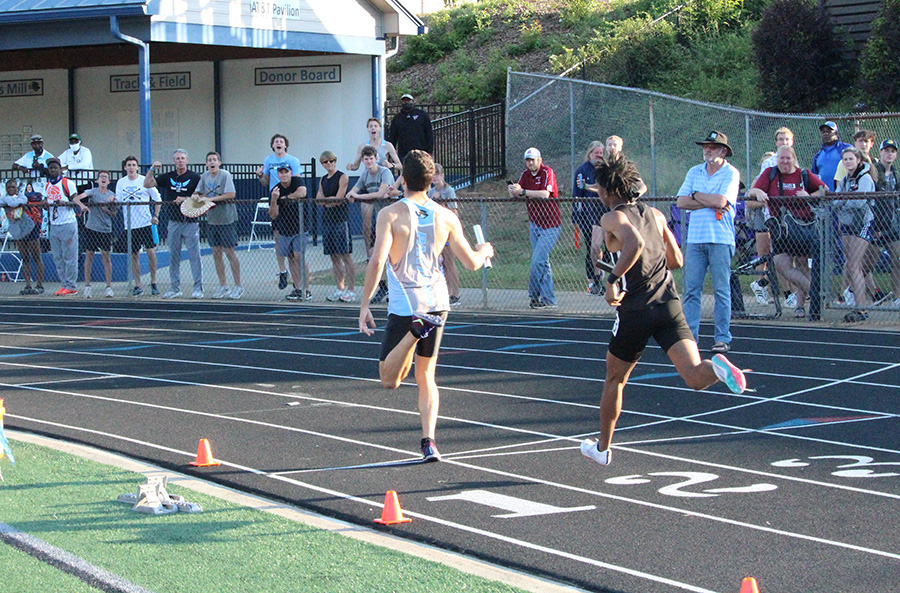 Daniel Stackhouse
In sectionals, there is no difference between first and eighth place, there are no points being awarded to teams, and nothing else matters other than qualifying. The Panther track team had to survive amidst competition from regions 2, 3, 6, and 7. In the end, 21 entrants from Starr's Mill qualified for the state meet.
"We knew that this side of sectionals was going to be the stronger side," head coach Chad Walker said. "This was going to be more of a preview to the state meet. We knew that if we could compete with the group that's here, that we'd have a good chance of scoring at state. We did that today, so that was awesome."
Starting in the morning with the 1600 meter race, senior Georgia Tech signee Allie Walker kick-started a good day for the Panthers by breaking the school record for the event. She placed sixth, clocking in with a time of 5 minutes, 13.35 seconds. On the boys side, junior Garrett Jones and senior Colton Olvey also qualified with times of 4:26.13 and 4:25.95, respectively.
Up next were junior David Bowers and senior and Marines poole Joey Sulkowski in the boys pole vault. Both made it to the 12 feet, but both needed to clear to qualify. Bowers made it first try, but Sulkowski struggled. Sulkowski ended up clearing the height and qualifying on his third attempt. Bowers finished at 12-6, placing fourth, and Sulkowski finished at 12-0, placing seventh.
Sophomore Josh Phifer, and juniors Brandon Mathis and Marc Stampley represented the Panthers in the first big wave of field events. Phifer, in discus, threw a personal best with a distance of 148-3 in the preliminary. That throw put Phifer in a good position, and after the finals he placed fourth, qualifying him for state.
"When I came into the finals… my coach just said, 'Just go out there and have fun because you already have the mark. Just go out and have fun,' and that's exactly what I did," Phifer said. "I am really happy [to qualify]. The fact that it's my first year and I'm able to do such a thing is just amazing… I really just thank my coaches for everything."
In the triple jump, Mathis and Stampley jumped distances of 41-5 and 43-1.75 in the preliminaries. Stampley felt satisfied, so he did not jump in the finals. Mathis jumped once in the finals, but did not exceed his previous jump. He was likely to qualify, but Northside Columbus' Justin Fields passed him with his third jump in the preliminaries, knocking Mathis out at ninth. Stampley, though, did qualify by placing sixth.
Senior KSU signee Devin Barnett started the second wave of field events in the high jump. On his second attempt at 6'0, Barnett was not properly told that he was running out of time. Because of that, he unknowingly ran out of time and proceeded to scratch on his third attempt. After a dispute, Barnett was given an extra fourth attempt.
"At first I was a little bit angry because I know the rulebook, and the rulebook states that you have a yellow flag up [as a time indicator] and [the official] did not have a yellow flag up," Barnett said. "Luckily they decided to let me jump, and then after that it's all or nothing really. It's either qualify or not, and luckily I qualified."
Barnett made the fourth attempt and proceeded to jump 6'2, placing fifth and qualifying for state. In the long jump, Stampley jumped a distance of 22-4 on his first attempt. Despite a few other attempts, that distance was all he needed to place second and qualify for state.
Freshman Hannah Davis and junior Amanda Robinson represented the Panthers in the girls pole vault. Davis did not clear the starting height, but Robinson went on to jump 8-6. She placed sixth, making her the only girl in a field event to qualify for Starr's Mill.
Phifer, junior Darrien Doster, and senior Berry signee Joseph Rampey all competed in the shot put. Doster did not make it out of the prelims, leaving Phifer and Rampey in the finals. Phifer struggled to make it in the top eight as Rampey placed third with a distance of 49-5, making him the only one of the three to qualify for state.
"The way [the coaches] have been training me and practicing me for this, it was just like light work. It was like secondhand nature today," Stampley said. "I feel like the momentum is really carrying me and I have a great chance at state to place in the top five."
Following a short break, the 4×800 relay commenced the rest of the running events. The girls relay team ran well to place fourth qualify with a time of 10:14.56. The boys relay team also qualified by placing fifth with a time of 8:24.35.
Up next was the 4×100. The girls relay pushed out a time of 49.99. This time beat out Griffin by 0.11 seconds, giving the Panthers eight place and the last qualifying spot for the relay. Senior Will Knowlton competed soon after in the 400 meter dash, but did not qualify even though he ran his personal best.
"I knew my rankings. I knew I wasn't going to make it through in my individual events, so my main focus was my relays," senior Kathleen Stephens said. "I really just think we have really good chances of going to the state meet for our relays, so that's really all that mattered. I didn't have high hopes for my individual events, but I did have high hopes for my relays."
Junior Sydney Blair and Stephens both ran in the 100 meter dash following the 400 meter, but neither qualified for state. Junior Annaston Evers ran in the 100 meter hurdles, but also did not qualify. Though right after Barnett blazed his way to first in the 110 hurdles with a time of 15.16.
Walker ran again in the 800 meter race, and placed fourth to qualify with a time of 2:19.24. Junior Alana Burrows missed out on qualifying by less than a second. After breaking the two minute mark last week, senior Kolby Smith placed fifth for the boys with a time of 2:01.54.
Blair and Stephens ran again in the 200 meter dash, but neither qualified. Evers also ran in the 300 meter hurdles, but did not qualify. Stampley and senior Ramello Jones ran the 300 hurdles for the boys, but only Staples qualified. Olvey came back out for the 3200 meter race, and breezed his way through, qualifying with a time of 10:15.74.
The 4×400 meter relays closed the meet, with both boys and girls teams racing. The girls relay ran well en route to a fourth place finish with a time of 4:04.44 seconds. The boys relay team started the race ahead of the pack and never looked back. Even though Whitewater closed in on them, the boys outlasted everyone else to win the event with a time of 3:21.79, the fastest time between both sectionals.
"It's a lot of pressure [as the anchor leg] knowing that your team got you so far ahead," Knowlton said. "You definitely want to keep that up and even gain distance if you can. I'm really happy that I was able to perform and keep up that lead."
After a successful sectionals meet, the 21 qualifiers head to Carrollton for the AAAAA state meet May 13-15.