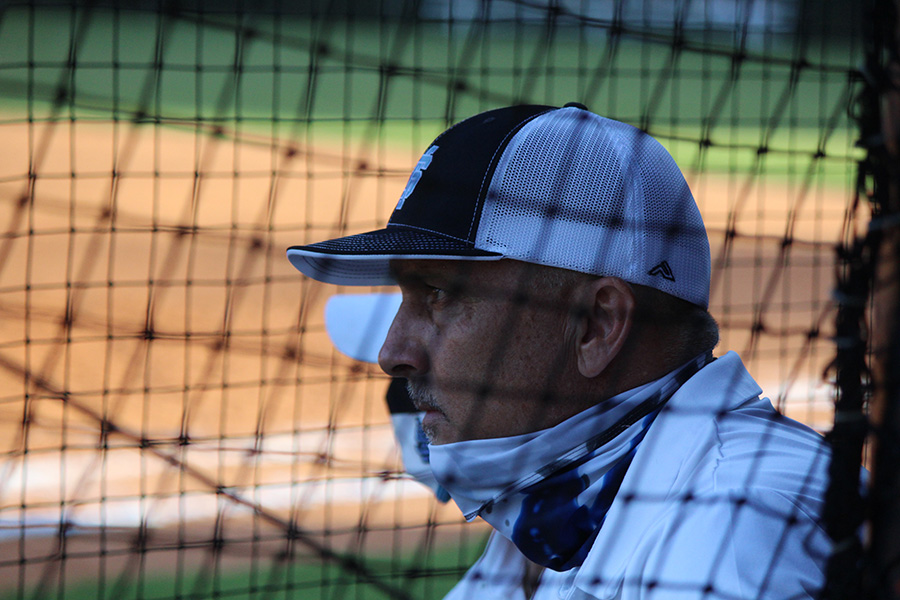 Mya McCullum
Tryouts for Starr's Mill softball begin this week as the team seeks to maintain momentum following a state runner-up finish last year. However, they will be taking the field under a new head coach. 
Long-time softball head coach Mark Williamson has forged some great memories throughout his tenure. After a 20-year stint at the helm, he has decided to step down.
It all started back in 1999. Having liked softball, Williamson saw the opportunity to contribute to the game by being the Fayette County team's bus driver. Later that year, coaching opportunities opened up at Starr's Mill, and Williamson took notice. He started at Starr's Mill by assisting with wrestling.
"I got into coaching to begin with just because [I am a] big sports fan," Williamson said. "I just realized how much I enjoy working with young people, and the older I get, it's not as much about the wins and losses as it is trying to help young people to become better people."
During his stint with wrestling, he wanted to try coaching another sport as he was working toward a degree and needed more time. After the wrestling season, former softball coach Donna Bailey offered him an opening to be an assistant coach, and he accepted.
The following year, Bailey decided to step down as head coach of the program after four years. In her absence, Williamson was one of the few who applied to be the team's head coach. That year, in 2001, Williamson became Bailey's successor, and the second head coach of Starr's Mill softball.
Two decades later, he has had the opportunity to reflect on his successful time at the helm for the softball program. This includes five region championships and 10 playoff appearances. Under Williamson, the team has made it to the state tournament in Columbus seven times. In those seven appearances, Starr's Mill softball has been the state runner-up in 2003 and 2020. However, Williamson has never won a state title during his time as head coach.
"The years that we make it to Columbus for the elite eight, it's something special," Williamson said. "I don't think a lot of other sports get to do that, where you have the eight best teams from every classification coming together and playing. You get to see so many great athletes, so many great softball players. It's a different atmosphere than most."
Nevertheless, Williamson walks away boasting a career record of 429-230-4. The offense under his tenure have racked up 21,172 runs, 106 home runs, 6,827 stolen bases, and batters have maintained a batting average of .296. Pitchers have thrown 3,468 strikeouts, 206 shutouts, and maintained a 2.11 ERA.  
Under his direction, 30 softball players have been able to advance their careers to the college level. That includes seniors Lauren Flanders and Jolie Lester, going to Brigham Young University and the University of North Georgia, respectively. Even juniors Lilli Backes and Sydney Blair have plans to play in college, continuing their careers at the University of North Carolina and the University of North Georgia, respectively.
"I've talked about [retiring] for several years. People that I'm close with, they know I've been thinking about it… The big thing was waiting for the right person to come along to take over," Williamson said. "We had someone come along and [is] perfect for the job, and it just seemed like the right time."
For Williamson, the right person has come in at exactly the right place and the right time. Taking his place as head coach is Peyton Dean. Formerly a multisport athlete in high school, Dean was a captain of the Whitewater softball team. After graduating, she played Division II softball at Armstrong State University.
Dean served as a long-term substitute at Rising Starr Middle School in 2017, before hopping around for three years until she came to Starr's Mill last year. She served as one of the assistant coaches on the softball team.
She comes from a family of coaches as both her parents have coached sports before her. After taking the helm herself, she has already started to hit the ground running with new ideas and executing them. Back in January, Dean had already set up the schedule for the season and established a camp for younger players.
"[She is] trying to build the program in the future, making sure there's no drop off from this year," Williamson said. "I know she's a great coach… She's great with the players. I think she'll get everything she can out of them."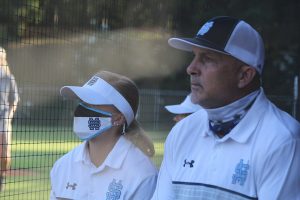 Sometimes coaching is not just beneficial for the players, but also for the coaches. Being the softball coach has impacted and shaped Williamson into the man he is today way more than he initially thought it would. What also did not expect is the way his career has helped his family, especially his daughter.
"We have a special needs daughter, and what the girls have done for her, and the joy they bring to her, words can't really describe it," Williamson said. "She gets texts from them that just make her day, she looks forward to the next game, always waiting, always ready to watch… I don't think I ever realized that these players could mean so much to her, and, in return, make those players so special to me."
Malcolm Forbes once said, "You can easily judge the character of a man by how he treats those who can do nothing for him." Williamson hopes that the softball players of past, present, and future take this quote to heart and live to be kind and treat everyone with respect.
Even though Dean will now coach the team, Williamson is hoping that she will let him stick around until he retires. He hopes to spend some time as an assistant coach. In the meantime, he hopes to re-energize by playing some golf and visiting the beach on the weekends through the spring and summer.
"Be sure to consider the advice from your parents and elders because one day you will realize they have been through a lot of life's ups and downs," Williamson said. "Life will not always be easy, but you will have a great one if you are willing to work and be successful."