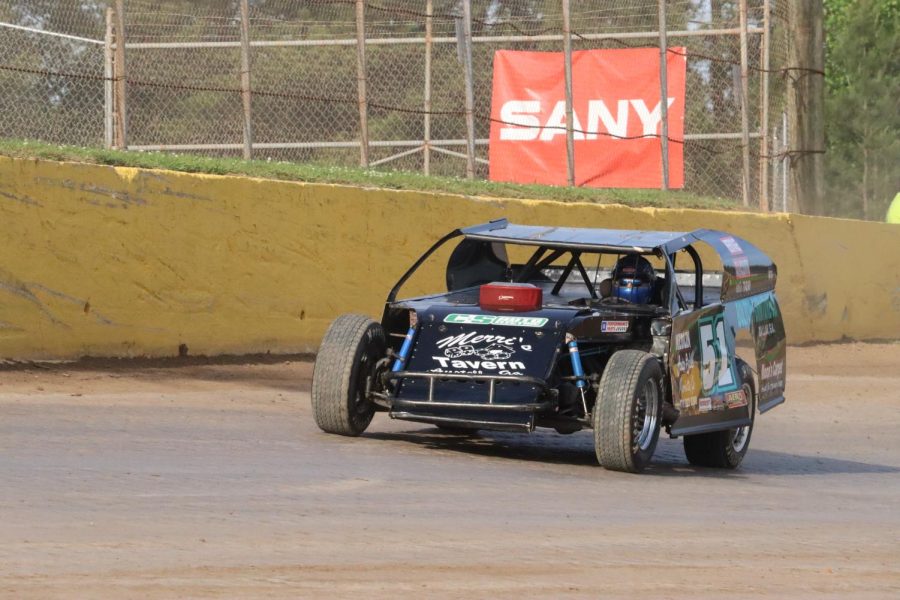 Craig Bardo
Large crowd, plenty of cars, and the gumbo track of Senoia Raceway greeted fans last Saturday evening, in the third race of the month. The night saw minimal cautions, which created a quick succession of races and faster-paced action for everyone.
Bombers started the night off with a tight-knit struggle for first place. Dustin Smith stayed close on race winner Chris Turner's heels for the entirety of the race. They would finish the race with almost a quarter of the track between them and third place.
Minis followed up Bombers with another fairly consistent race. Mark Newton and John Holcomb battled for first as David Breckett and C Sawyer struggled for third. This running order carried throughout the 15-lap race until Sawyer had to pull off to the side due to car problems. The race was cautioned but the quick return to action saw little change in the lead, with Newton taking the win. 
Hobby cars rolled onto the track for the third feature of the evening, with three big contenders for first in Dylan Knowles, James Swanger and Landon Degraff. Degraff decisively took the lead when the green flag dropped, but would be overtaken by Knowles around halfway through the race. Knowles would begin to create a lead, lapping the rear half of the field before maintaining and finishing in first. 
Moving into Modifieds, a fast-paced three car race took off around the track with Steve Pate in the lead while Dennis Hale and Dan Meadows followed close behind. Though tight-knit at first, by the end the three drivers had split and nearly lapped Meadows whose car struggled to keep pace. Pate would take first. 
604 Late models rolled onto the track for a 20-lap race, led by Dalton Polston, Logan Palmer and Ryan Ray. Ray battled the two leaders, trading positions multiple times. Palmer defended against the cycling second and third place drivers, holding his ground to take the checkered flag.
Into the penultimate race, the Limited Late Models raced 25 laps started with a bang when Jimmy Price and Parrish Duncan spun out to begin the second lap, triggering an early caution. Both rejoined the race, which was being led by Bailey Williams, who kept first for the entire race, ending it by lapping the back few cars.
The grand finale of the evening featured the Hot Shots, and excitingly Shaun Harper's Lightning McQueen decaled car. Harper was in the top three, alongside Jason Young and David Pope, all vying for the $800 grand prize. Harper fought with Young for first place until car issues slowed his pace and left first place to defend against Pope. Young maintained his lead throughout the rest of the race and won.
Racing returns to Senoia this weekend for the Roscoe Smith Classic.