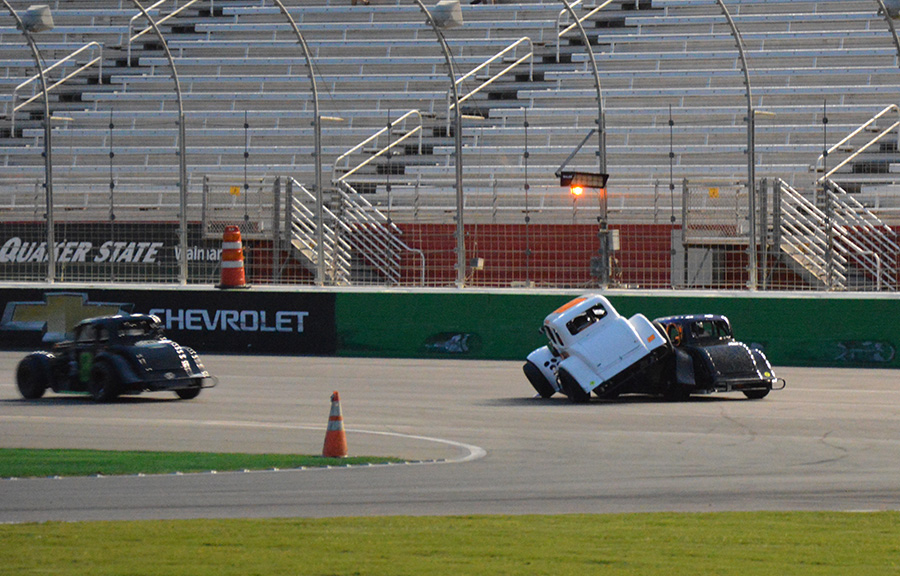 Craig Bardo
Thursday Thunder Legends series at Atlanta Motor Speedway brought chaos, thunder, and excitement to the fans watching last night in the final event of the 2022 season. Although rain delays and plenty of cautions slowed some of the action, it was nonetheless entertaining.
Chargers began the evening, with the fight between pack leaders Coleman Moody and CJ Almond. Moody managed to maintain his lead though, putting plenty of space between himself and second place throughout multiple restarts. He would go on to win, with Almond placing second.
Particularly chaotic, part one of Rookie Bandoleros races saw five cautions all due to various spin outs, with the main competition between Wyatt Youngblood and Emma Teal vying for first after each restart. Overtaking each other multiple times, Youngblood won as the race ended prematurely when the 15-minute time limit expired.
Spinning seemed to be a good trick into the second part of Rookie Bandoleros, with multiple cars doing so when the green flag dropped. Colton Glass held the lead for the majority of the race and succeeded in taking a victory, with little fight from his competitors.
After a weather delay, racing resumed with the Young Lion Legends. This race was arguably one of the most exciting especially after a multi-car pileup on lap nine. Josh Dickens would later capture the checkered flag.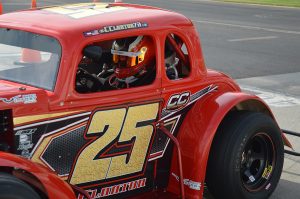 Semi Pro Legends saw the most spread between cars, with three separate packs of racers and Donovan Strauss out in front of the field. After a spin from Sam Mazzo, Luke Yarbrough was able to jump Strauss on the restart to take the lead and win.
Master Legends saw more action with Joey Clanton pulling into an early lead and stretching it wider throughout his race. Josh Mullin's tire exploding on lap nine  pulled the pack back together. Regardless, Clanton would finish an otherwise uneventful race taking his win. 
The Pro Legends race was rather uneventful as Landon Rapp took and held the lead for the entire race.
Fans were met with caution after caution in the Bandits race, with a crash before drivers even saw the green flag. Nicholas Denton and Beckham Malone fought for the win as they avoided the wild driving of the field, with Malone overtaking Denton and claiming his victory.
Last but not least, the Outlaws raced a mostly clean race with Bryce Sanders and Kyle Bacon overtaking one another without extra incident until the last two laps.  Bacon was pulled back to the pack by caution, but managed to keep his position safe going on to win. 
Racing resumes at Atlanta Motor Speedway July 8-10 when NASCAR returns for the Xfinity Series Alsco Uniforms 250 and the Cup Series Quaker State 400 Presented by Walmart.