Starr's Mill defeats East Coweta 27-17, Fayette County teams sweep Coweta County in Classic
Fayette County swept the 2nd annual Fayette-Coweta Kick-Off Classic Saturday night.
After Whitewater's 27-14 win against Northgate and Sandy Creek's 38-27 defeat of Newnan, Starr's Mill capped off the night with a 27-17 comeback win over East Coweta.
"
If you run enough plays, you're going to come out victorious.
— head coach Chad Phillips
"Our goal from day one and coming on the field was to compete, and compete to our standards," head coach Chad Phillips said.
Senior Greigh Joseph led the offense with 22 carries for 133 yards and two touchdowns. Both of his touchdowns came in the first half.
After a rough second quarter, juniors Bo Walker and Noah Scott both stepped up with interceptions to help the Panthers recapture the lead in the second half. 
"The one thing I can appoint to the game is the mentality of the whole team because we had some down times, I had some down times in the second quarter," Joseph said. "I fumbled the ball but I came out of the field during half-time, the coaches talked to me, got in my head, and I came back and put on a performance." 
In the second quarter, with only 7 minutes and 17 seconds left before half, the Panthers led East Coweta 12-0. In the last minute of the quarter, the Indians managed two touchdowns and led at the half 14-12.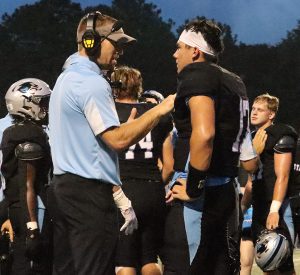 "Our challenge to them is always to play the next play. If something great happened the play before, it doesn't matter, you got to play the next one. If something horrible happens, it's like the game of life, there's going to be great days and bad days and you just keep pressing forward and you do your best with every opportunity you get," Phillips said. "That's the way we coach, that's our philosophy, and that's our style. If you run enough plays, you're going to come out victorious." 
At the beginning of the second half, East Coweta extended its lead with a field goal. The Panthers responded at the end of the third quarter when sophomore quarterback Logan Inagawa connected with senior Josh Phifer on a 13-yard touchdown pass.
"I think the standard [this season] is going undefeated throughout the whole season, going 10 and 0," Inagawa said. "Based on this game, [defeating a] big 7A opponent, I think we handled it well today."
Starr's Mill extended the lead in the fourth quarter on a 3-yard touchdown run from junior Dorsey Benefield. With the 27-17 win, Starr's Mill completed the Fayette County sweep of Coweta County teams. 
This Friday, the Panthers travel to Northgate and play the Vikings at 7:30 p.m. Starr's Mill defeated Northgate 27-0 last year.