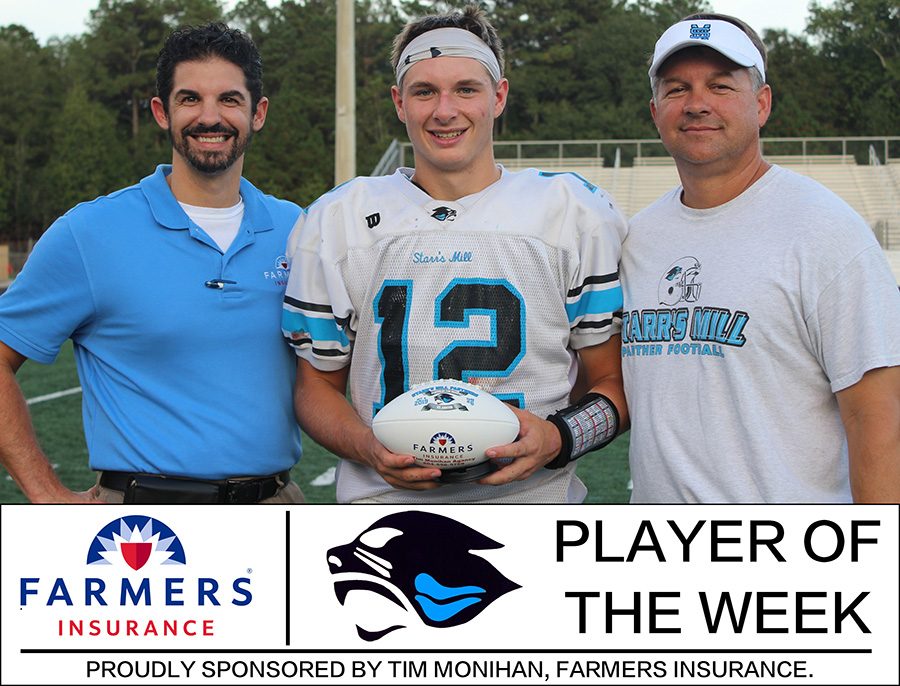 Tim Monihan / Farmers Insurance
Tim Monihan and Farmers Insurance have selected senior Hunter Lawson as the ninth Player of the Week of the 2019-2020 school year.
"[Hunter] is a competitor," head coach Chad Phillips said. "He's very driven to win, highly motivated, and a talented player."
In his second year under center, Lawson has shown plenty of improvement compared to last year, throwing for 272 yards and three touchdowns. Lawson has also rushed for 129 yards and another touchdown.
"Any time you've got a quarterback that's pretty good, you've got a chance at any level of football," Phillips said.
Last week against Griffin, Lawson found success from the ground, rushing for 42 yards on seven carries and a touchdown. He was also successful running the option, one of the strongest plays in the Panther playbook.
"We needed a run at them attack against [Griffin]," Lawson said. "It felt good to finally run the ball some." 
The Panthers will stay in Panther Stadium to take on Whitewater this week. Arrive early to watch the varsity girls' lacrosse team, varsity girls' golf team, varsity boys' cross country team, and dance team receive their GHSA – AAAAA State Championship rings. Kickoff is set for 7:30 p.m.