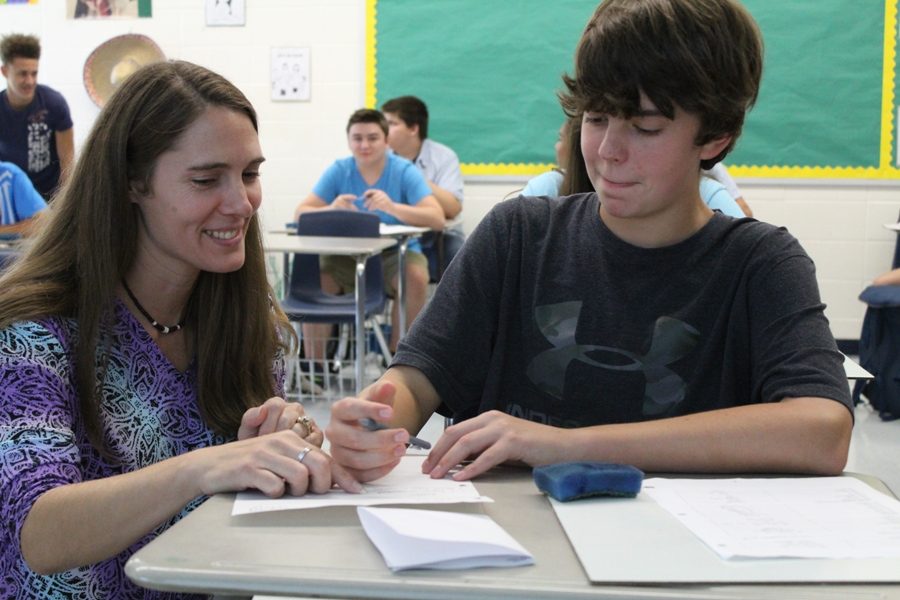 Aelise Gagliano
"I want to help students get an appreciation for the culture."
Background
From Pomona, California
Attended McIntosh High School for 9th and 10th grade
Graduated from Upland High School in Upland, California
Education
Bachelor's degree in liberal studies at California Polytechnic Pomona University
Master's degree in teacher education from Sierra Nevada College
Responsibilities
Teaches Spanish 1 and 2
This school year, Starr's Mill welcomed a new Spanish teacher, Shayne Thompson. Before coming to the Mill, she taught Spanish at Griffin High for six years.
In addition to appreciating other cultures, she believes a second language can significantly help students in the future through expanding communication skills. "The more languages you speak, the more useful you are," Thompson said.
Before becoming a teacher, Thompson worked as a Spanish linguist for the U.S. Army and was stationed at Fort Jackson in South Carolina, The Defense Language Institute Center in California, and Goodfellow Air Force Base in Texas. She additionally worked in Fort Huachuca, Arizona, and Fort Drum in New York. After serving for nearly three years, she decided to leave the Army to teach Spanish.
Thompson's experience in the Army required discipline and teamwork, two qualities she hopes to bring to her classroom. "The camaraderie [at Starr's Mill]  is wonderful," Thompson said.
Thompson said that she is happy to be a Panther and thinks that the people are "helpful and friendly." Thompson hopes that she can grow to be a part of the school and hopes to stay until it's time to retire.