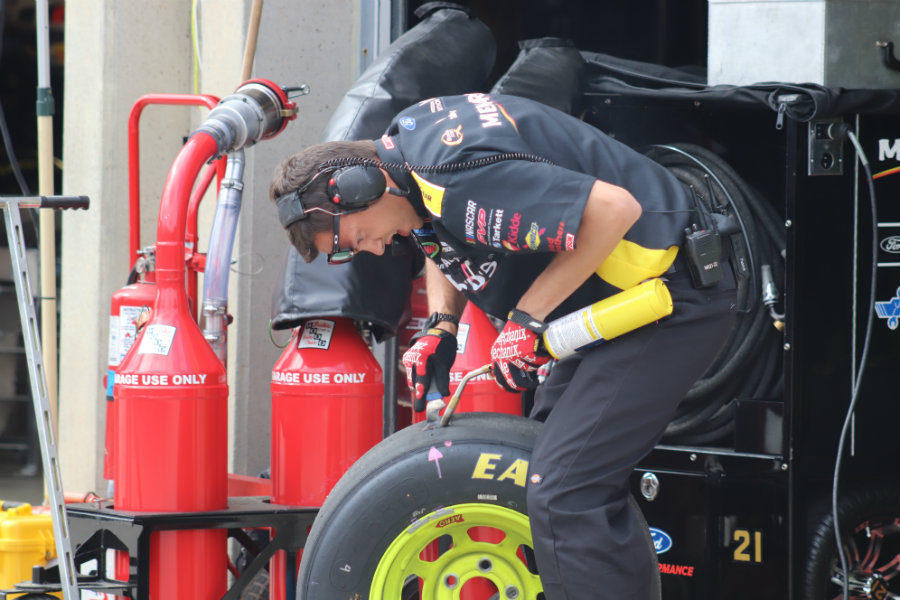 Lilly Carter
Ryan Newman, driver of the No. 31 Liberty National Chevrolet for Richard Childress Racing, finished first during the final Monster Energy NASCAR Cup Series practice with a lap time of 29.989 seconds and speed of 184.868 mph. He ran a total of 49 laps in the session.
Ryan Blaney of the No. 12 DEX Imaging Ford for Team Penske finished the practice session with the eighth fastest time of 30.453 seconds, only 0.208 seconds away from the top five finishers.
"I've been here a couple times before, and I like the race track," Blaney said. "I think it's pretty neat. It's worn out, old, and pretty slick, which makes it pretty challenging, but that's what makes it fun, too."
Defending Monster Energy Series champion, Martin Truex Jr. in the No. 78 Toyota, had the second fastest lap time of 30.033 seconds. However, due to failing inspection three times prior to last night's qualifying session, he will start last in tomorrow's race.
The third fastest lap time of 30.038 seconds went to Paul Menard, driver of the No. 21 for Wood Brothers Racing, only 0.005 seconds off of Truex's time. Denny Hamlin, in the No. 11 Toyota, finished with the fourth fastest lap time of 30.202 seconds. Joey Logano, in the No. 22 for Team Penske, ran 74 laps in the session and rounded out the top five with a best lap time of 30.245 seconds.
Pole winner Kyle Busch finished with the 15th fastest lap time over the 60 laps he completed during the final practice session. Kevin Harvick, who led a race-high 262 laps in last year's MENCS race at Atlanta, finished 23rd after running 59 laps in the session. Last year's Folds of Honor QuikTrip 500 winner, Brad Keselowski, finished the session 29th running a total of 60 laps.  
David Ragan, driver of the No. 38 Fr8 Auctions Ford for Front Row Motorsports, finished the practice session 27th with another Georgia driver, Chase Elliott of the No. 9 NAPA Auto Parts Chevrolet, close behind in 28th. Both drivers completed 56 laps during this practice session.
"[Atlanta is] a lot different [than Daytona]…We will be all spread out everywhere. So I think the aggression level will be a lot farther down this weekend," Blaney said. "Last week, you were worried about blocking runs and lanes, and here you won't ever have that. There will be hard racing for sure, but it will be different."
The Monster Energy NASCAR Cup Series drivers finish out the weekend with the Folds of Honor QuikTrip tomorrow.  Race officials have moved the start time of the race forward one hour due to the possibility of rain. The race is now scheduled to begin at 1 p.m.