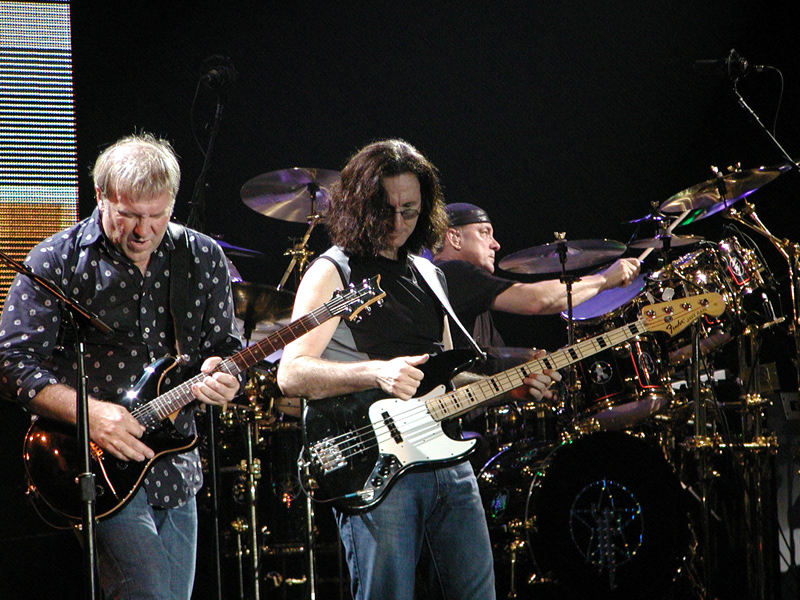 Photo via Wikimedia Commons (jonasz) under Creative Commons license
Rush
Rush is the essence of progressive rock, swaying between both heavy metal and hard rock. Harsh guitar and rhythmic drums are key elements to the band, including frontman Geddy Lee's vocals.
Most known for "Tom Sawyer" found on their "Moving Pictures" album, other key songs include "Limelight," "The Spirit of Radio," and "Working Man."
Geddy Lee, lead singer and frontman for Rush, has a melodic voice with almost a "witchy" kind of feel to it. Lee's unique tone of voice that can be characterized as "witchy" and almost twangy-like is essential to Rush's main sound. His high pitched vocals are what make the band and shows the similarities between him and Josh Kiszka.
Kiszka's voice has been repeatedly compared to Geddy Lee's vocals, not just Robert Plant's. They share the distinctive high octave vocals with an almost nasally feel to them. Both singers are able to reach high registers and make their bands what they are.
"Light My Love" by Greta Van Fleet is one of few that have a more "clean" tone rather than distorted. Kiszka's high octave vocals in the song make the song what it is, similar to what Lee's vocals do for almost every Rush song.
I will be honest, before this article I never really listened to Rush. It is not that I did not like the band, it is more that I did not know who they were. As I continued to listen to more of their discography I thought, "How have I never listened to them before?" While Rush is not a band I normally listen to, they are all I have wanted to listen to these past few days.