The end?
May 16, 2019
Do you remember when you were sitting at freshman orientation and with nervous anticipation wondered, how you will survive the next four years? What about your freshman year when you found that extra-curricular that you now consider a calling? That first day of junior year when you walked in as an upperclassman? Or junior year's last day when you became that senior that would graduate in a year?
High school is full of milestones and memories. It's just like a story with hundreds of characters doing their own plots. Plots that all end in less than two weeks.
Since I started this "Senior Walk" I have been fighting myself on how I wanted to end it. I could just do a typical walk down memory lane and then say goodbye and that's it. I mean a ton has happened in four years' time. But instead of just spewing nostalgia that you could find in your yearbook or old Prowler stories, I wanted to end with this — the realization that May 24 isn't your typical story's end. Because there are more pages to this book.
Everyone of us will continue onto great things after high school. For some it could be fame and fortune. For others it will be a typical family lifestyle. Some people might even end up like their parents. And while I can't write a news story telling what is to come, I can write what I know. 
"
But instead of just spewing nostalgia that you could find in your yearbook or old Prowler stories, I wanted to end with this — the realization that May 24 isn't your typical story's end.
— News Editor Jacob Hunt
Colleges and careers graduating seniors will attend:
Agnes Scott College – Abigail Mapel
Air Force Academy – Alyson Phinney
Air Force – Andrew Williams
Anderson University – Audrey Carroll
Arizona State University – Mary Dennis
Auburn University – Kaitlyn Reiss, Emma Posey, Katie Alldredge, Michael Heatherly, Sophia Bender, Preston Harris, Jordan Cole
Belmont University – Sean Phelan
Berry College – Sarah Johnston, Jacob Hunt
Clemson University – Caroline Andrews
Coker University – Ansley Wallace
Colorado State University – Ally Marshall
Cosmology school – Mackenzie Gibson
Embry Riddle Aeronautical University – Liam Artman, Vladimir Taylor
Florida State University – Sarah-Grace Collins
Franciscan University of Steubenville – Sebastian Garzon
Georgia College and State University – Ansley Taubert, Abigail Beaulieu, Joseph Piceno, Katelyn O'Shields, Carson Hines, Ellie Camp, Franny Landgrebe, Rose Stephens, Eric Lacourly, Grayson Faircloth, Ryan Henderson, Gracie Britt, Sarah Lawson, Gracen O'Neil, Libby Gilmer, Ansley Osborne
Georgia Military College – Kaitlyn Smilie, James Lock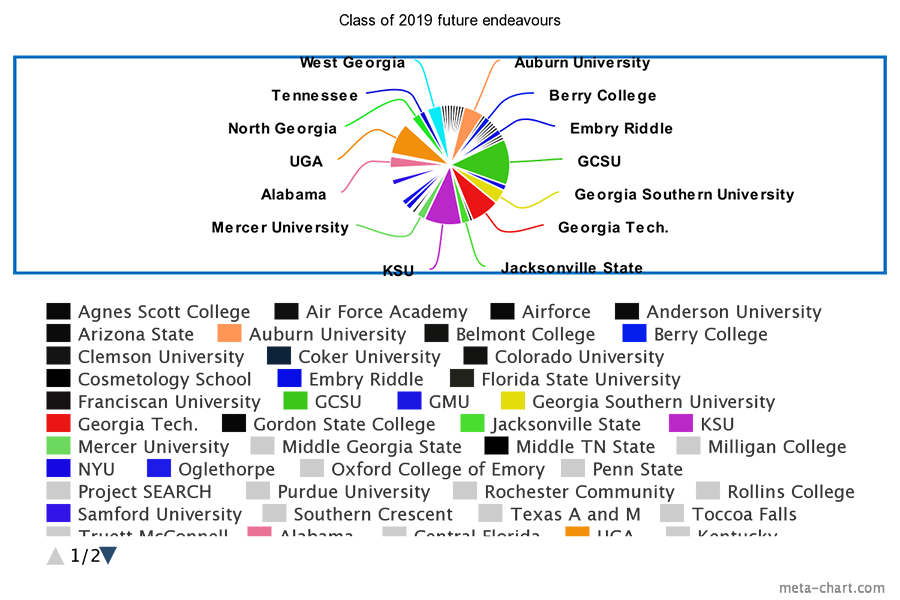 Georgia Southern University – Lauren Ratinaud, Becca Davis, Kellie Arnold, Matthew Hyle, Dylan Yost
Georgia Institute of Technology – Madison Knowlton, Jake Paupe, Bailey Austin, Ashley Fukuyama, Carol-Anne Collins, Brady Meyer, Erin Pham, Ore Amosu, Ben Mrosek, Ian Fertig
Gordon State College – Logan Cognac
Jacksonville State University – Madison Corkill, Nick Wiest, Devon Moan
Kennesaw State University – Kate Kojali, Caroline Kingsley, Rachel Davison, Ethan Nuqui, Mckenna Rockwell, Kelsey Proffit, McKell Williams, Aubrey Stewart, Hailey Grebeck, Mya Burns, Leah Serratelli, Kristen Decos, Niki Jackson
Mercer University – Nolan Robichaux, Tara Davis, Athena Higgins, Luke Bennett
Middle Georgia State University – Matthew Craig
Middle Tennessee State University – Adam Secor
Milligan College – Alivia Sapienza
New York University – Chad Evans, Tooni Bamiro
Oglethorpe University – Zion Glenn, Abri Hausman
Oxford College of Emory – Saijleen Chawla
Penn State University – Abby Weaver
Project SEARCH – Sara Huang
Purdue University – Jack West
Rochester Community and Technical College – Jalen Lazenby
"
Reading down this list, I have to say I'm both impressed and disappointed.
— News Editor Jacob Hunt
Rollins College – Liza Eubanks
Samford University – Aidan Fenwick, Emily Egan
Southern Crescent Technical College – Ke Julien
Texas A&M University – Tori Davis
Toccoa Falls College – Zach Garcia
Truett McConnell College – Jonelle Granger
University of Alabama – Sarah McNulty, Lisa Bergmann, Sarah Kirby, Lea Duben
University of Central Florida – Ana Kewley
University of Georgia – Stephen Stalzer, Sarah Dorr, Tatmeen Khimani, Luke Presley, Michael Burnett, Camber Bransky, Isabelle Bowman, Alex Mahr, Cole Wittbrodt, Laura Anderson, Sarah Kelly
University of Kentucky – Ty Odom
University of Mississippi – Jack Wilson
University of Missouri – Rilee Stapleton
University of North Georgia – Luke Lamneck, Lauren McBryde, Kate Ashmore
University of Tennessee – Kerry Cronin, Sam Bohdan
University of Utah – Caroline Crockett
University of West Georgia – Steven Corrado, Grayson Faircloth, Hannah Defler, Colt Mullins, Grace Beasau
Valdosta State University – Ally Little
West Point Military Academy – Rhett Perry
Xavier University of Louisiana – Allanah Bryant
Reading down this list, I have to say I'm both impressed and disappointed. Impressed by the big things the class of 2019 will be doing over the next few years and beyond. Disappointed by the fact that our journey together is over. But as I've said before our individual stories are just beginning.
So I leave you with this. Thank you for making this "Senior Walk" one of the best the school has ever seen. And as we past this tradition down to the class of 2020, I wish them the best of luck. After all, as we take our final steps on our "Senior Walk," theirs are just beginning.
Thanks for a great year and good luck in the future.