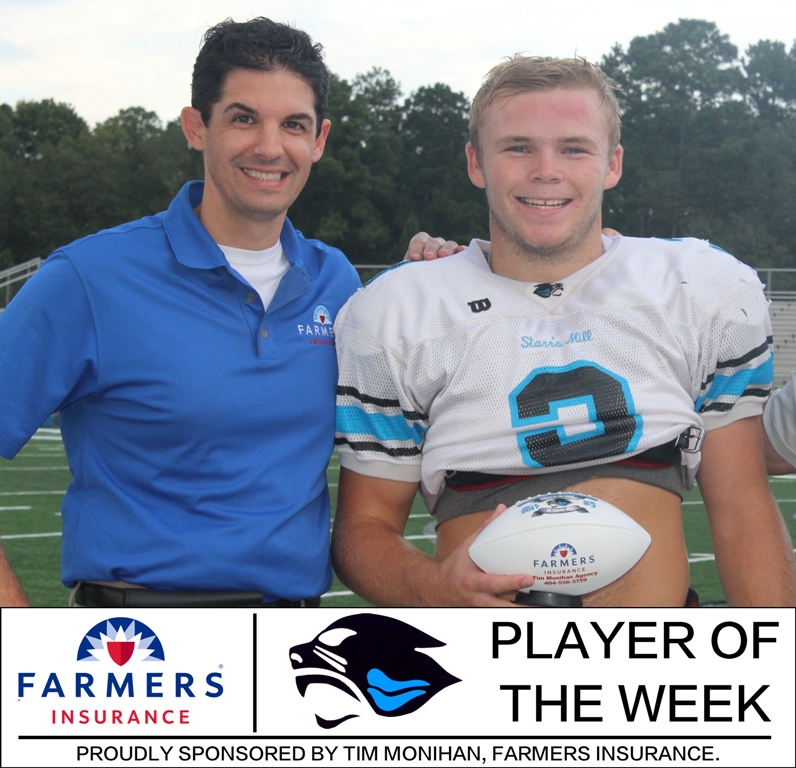 Courtesy of Tim Monihan
Cole Gilley
Farmer's Insurance has crowned senior fullback Cole Gilley as the third player of the week for the school year.
Gilley had a monstrous performance in week three's 56-21 win over Chapel Hill.  Gilley fooled the Chapel Hill defense all game long as he carried 12 times for 75 yards and four touchdowns.
"I couldn't have done anything last week if it wasn't for my offensive line and all my teammates," Gilley said.

Chapel Hill's defense had no answer for Gilley and the rest of the Panther running backs. The ground game did a fantastic job, totaling 342 yards on the ground, along with all eight of Starr's Mill's touchdowns.
"I missed the week before with a sprained ankle, and it was the first game I have ever missed in my life," Gilley said. "That really just motivated me to play well."
A four-year veteran of the Starr's Mill football team, Gilley continues to be a solid running back for the Panthers.
"He's critical to our success," head coach Chad Phillips said. "Most of our offense is built around Cole's position."