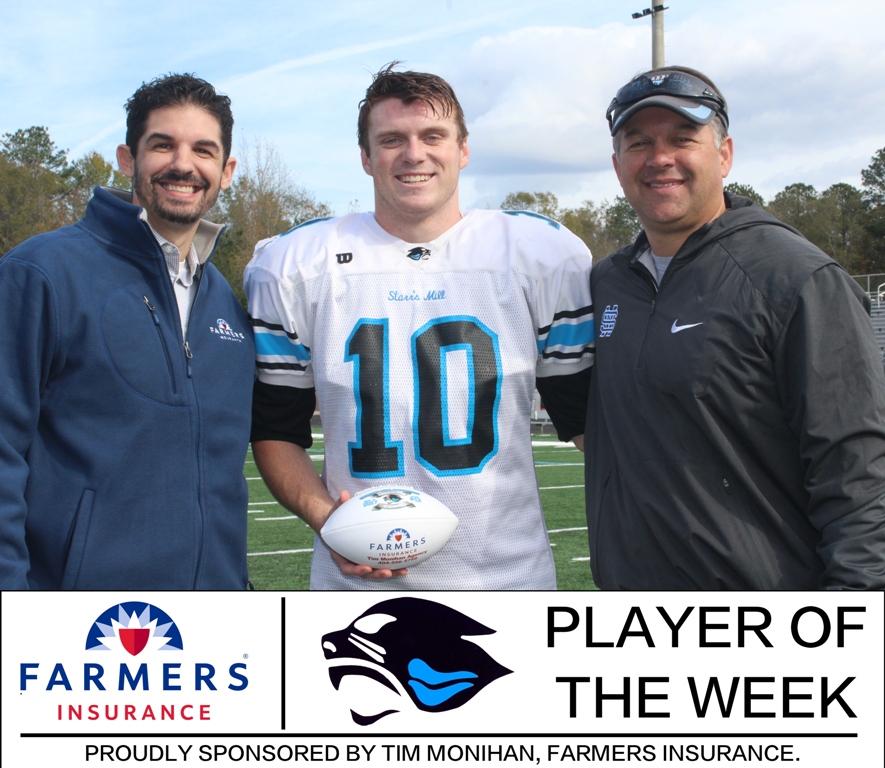 Tim Monihan / Farmers Insurance
Ryan Cockes
Over Thanksgiving Break, Starr's Mill competed in two state playoff games. In the first game, the Panthers defeated the Bainbridge Bearcats 49-28. Though the whole team played a well rounded game, Starr's Mill senior Ryan Cockes was selected as the Farmer's Insurance Player of the Week.
Cockes, a linebacker for the Panthers, had missed six games earlier in the season due to a knee injury sustained in the Mill's week three win against Chapel Hill.
"It was a change of mindset after my injury," Cockes said. "There was a constant fear of my knee cap sliding out of place again and I had to work through that on a day to day basis."

After working through physical therapy two to three times a week after practice, Cockes attempted a comeback just three weeks before, but ultimately had to wait until the Fayette County game to be fully healthy.
Cockes was rewarded Player of the Week thanks to a pass breakup and his two pick-sixes against the Bearcats. The pass breakup stopped Bainbridge in their tracks and shifted momentum to Starr's Mill.
Late in the second quarter, the first pick-six helped seal the Panthers' solid performance in the first half and energize the team's defense.
Just halfway through the third quarter, Cockes struck again, this time intercepting a pass intended for Florida commit Dameon Pierce.
"My most satisfying play was the second pick-six," Cockes said. "I baited the quarterback into the pass and when he threw it, I was ready."
Cockes was named to his second consecutive All- Region second team, and his play helped propel the Panthers to their matchup against Rome the following week.
"He was one of the most instinctive players we have ever had," head coach Chad Phillips said. "His two interceptions helped seal the [Bainbridge] game for us."