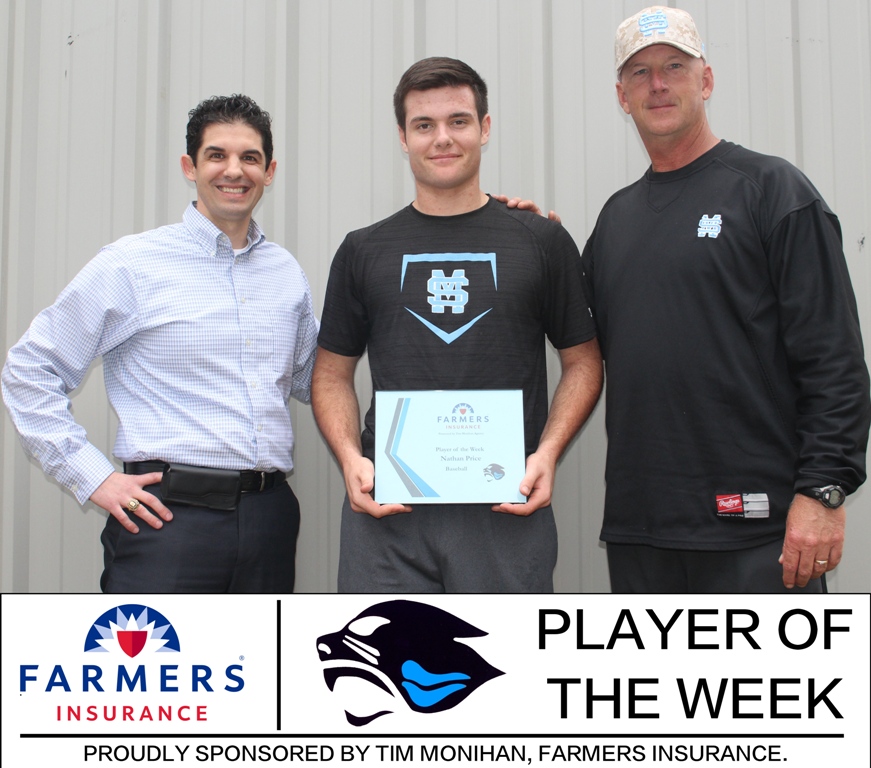 Tim Monihan / Farmers Insurance
Nathan Price
Tim Monihan and Farmers Insurance in Peachtree City have named senior pitcher Nathan Price the first spring sports Player of the Week. Price had a solid start to the season, accumulating ten strikeouts in ten innings en route to two wins over Effingham County and Morrow High School.

"He has been really good on the mound," head coach Brent Mosley said. "I think the kids have confidence in him and he throws a lot of strikes which keeps everybody in the game."
Price has started off his final season at the Mill strong, and will take his talents to the Air Force Academy in the Fall.
"I'm honored and humbled to be named the Player of the Week," Price said. "I have been working hard and it is awesome to help the team in whatever ways I can."
Against region opponent Morrow, Price had his best performance of the season thus far, throwing a no-hitter through three innings before the game was called due to a run rule.
"Being named Player of the Week gives me confidence," Price said. "Hopefully, I can keep stringing together good outings and bringing the team some wins."
The Panthers are currently at 5-5 on the season. They currently lead the 3-AAAAA region standings with an unblemished 4-0 record.