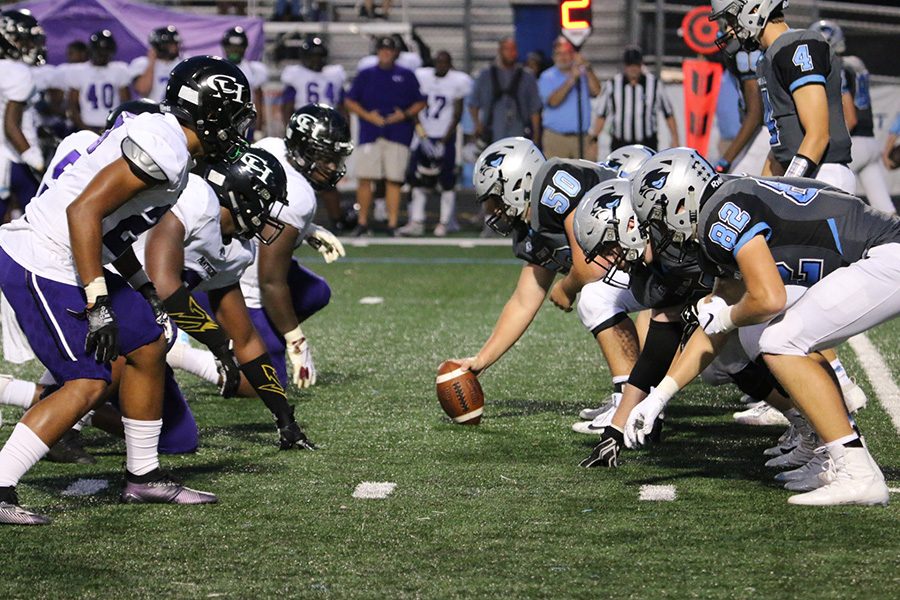 Gameday Takeaways, Week 3
Three notes from first Panther loss of season
September 17, 2019
Last Friday, the Panthers returned to Panther Stadium to take on the Chapel Hill High School Panthers. Late turnovers and a blown call played a huge role in the game, as Starr's Mill lost their first game of the season 28-21. Here are three notes from the game.
Successful Panther pass game
While running the football is usually the priority for the Panther offense, the pass game found much more success. 
After throwing for a combined 42 passing yards in the wins against Mt. Zion and Northgate, senior quarterback Hunter Lawson went off, throwing for 147 yards, two touchdowns, and one interception. 
This is what the Mill's offense has needed — a strong pass game that equals their already strong run game.
New Panthers stepping up each week
Consistency has been a main theme for the Panthers this year, and each week, it seems that a new player finds a consistent rhythm to add to the success of the team. 
In week one, seniors Ben Bodne and Owen Phillips played a big role in the win. Bodne and Phillips then had a successful week two, with the addition of junior Cole Bishop, who made a huge impact on the defense with junior Wes Haney out for the majority of that game.
 Last week, all three of those players were successful, and Lawson, junior Gavin Necessary, and sophomore Malachi Townsend added success in the pass game. 
It will be interesting to see who steps up next for the Panthers as region play draws near.
Quiet run game
Usually, the Panther run game is what makes the offense run, with a weak pass game to counter it. 
Last Friday was the exact opposite, as the run game only managed to gain 75 yards, a far stretch from last week's 348 rushing yards against Northgate. 
Call it a good Friday the 13th switcheroo or a great Chapel Hill defense that swallowed the Starr's Mill backs at the line of scrimmage. Either way, the Panthers need to find a way to combine both a threatening run game and a successful pass game.
What to watch for this week:
The Panther defense has a huge test this week against the undefeated Sandy Creek Patriots. In three games, the Patriots have averaged 43 points a game, while only allowing 10 points in their three victories. 
The loss of junior Wes Haney at middle linebacker showed last week against Chapel Hill, as the Hill exposed Starr's Mill in the middle for big runs. Defense needs to be made a top priority at practice this week if the Panthers want a chance at stopping a high-powered Sandy Creek offense.
Starr's Mill takes the field this Friday at Patriots Stadium against Sandy Creek. Kickoff is set for 7:30 p.m.