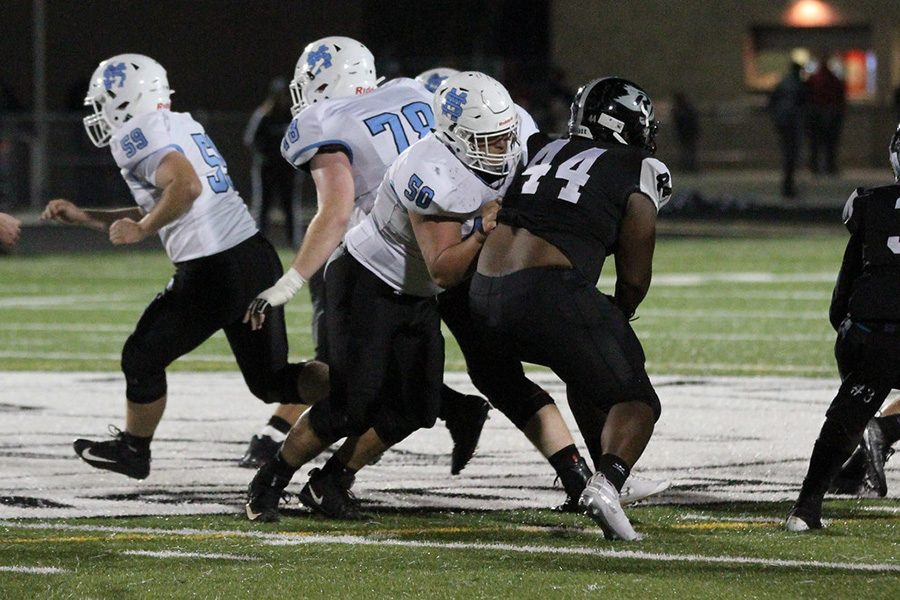 Chris Dunn / cdphotography23.com
Gameday Takeaways, Week 9
Three notes after overtime thriller
November 5, 2019
Last week, the Panthers traveled to Riverdale to take on the 6-1 Riverdale Raiders. This game had big implications, and the Panthers stepped up to the challenge, using overtime to defeat the Raiders 42-41. Here are three notes from the contest.
Battle of high-powered offenses
Riverdale and Starr's Mill are easily the two best offensive teams in the region this year, and this game proved it. One of the highest scoring games this season, both teams used offense to their advantage, moving down the field with efficiency and success.
However, the Panthers had more fire in their engines, totaling 289 rushing yards and looking like the better team throughout the close contest. Once overtime came, everyone in the stadium knew that this was Starr's Mill's game, and they proved it.
Offensive line = secret weapon
People never hear much about the offensive line, but the Panther line is getting less credit than they deserve. Spearheaded by senior Jeff Tiller, the line has consistently done its job in allowing the backs to rush for over 200 yards in each of the team's last five games.
The good news for the line is that it only consists of two seniors — Tiller and Jaxon Via. Juniors Joseph Rampey, Dalton Koth, and Cole Sanders all return next season, giving the line plenty of experience, and surefire success for next season.
Riverdale kicker struggled mightily
It was a bad night for senior kicker Mario Vega, as he missed two important kicks that would have given the Raiders the lead and possibly the win. 
First, Vega had an easy chip shot game-winning field goal. However, three straight timeouts by Starr's Mill head coach Phillips iced him down to his veins as he missed it wide left and caused the game to go to overtime.
As if that wasn't bad enough, he then missed a PAT wide left that allowed the Panthers to secure the win after senior Christian Castillo easily drilled it through the uprights. 
What to watch for this week
The Panthers finish off the regular season this Friday back in Panther Stadium against the Fayette County High School Tigers. Fayette County shocked a lot of people when they got two wins in non-region play. However, they have gone winless in region and are proving that they still have a long way to go.
A win for the Panthers gives them their history-making fourth straight region championship and a number one seed in the state playoffs. 
This Friday is senior night, where seniors of the football team, cheerleading squad, marching band, color guard, and dance team will be honored for all of their accomplishments over the last four years.
Starr's Mill returns to take on the Tigers this Friday. Kickoff is set for 7:30 p.m.