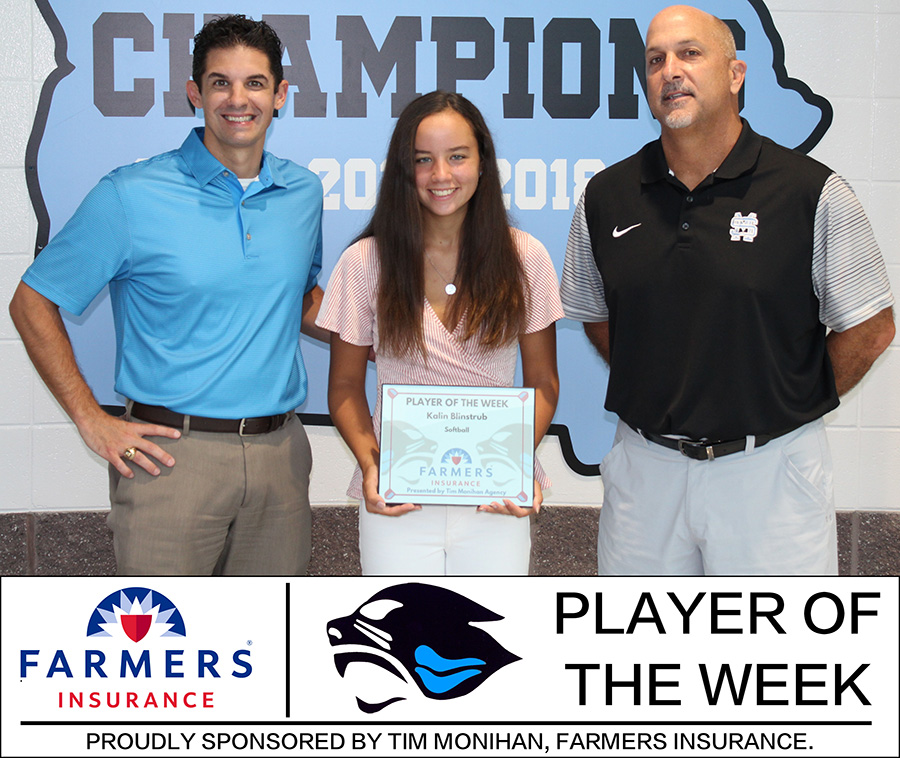 Kalin Blinstrub
Tim Monihan and Farmers Insurance are kicking off Player of the Week honors for the 2020-2021 school year by recognizing junior softball player Kalin Blinstrub.
"[Blinstrub] works hard, plays multiple positions, never complains about anything, just keeps a good attitude," head coach Mark Williamson said. "She's just happy to be out there and do what she can to help the team win ball games."

Blinstrub has been a jack of all trades for the Lady Panthers. The three-year varsity player has played outfield, second base, third base, and even is being considered to be used as a first baseman and shortstop. 
In the first three games of the season, Blinstrub has been 5-for-9 at the plate with a double and two runs batted in. She has also stolen two bases and scored two runs.
"I feel like anyone on the team could have gotten [Player of the Week]," Blinstrub said. "As a player, I've worked hard in the offseason to just be the best player I can be and be the best person I can be for my teammates."
After a 4-2 loss to McIntosh and a 1-0 victory over Northgate, Starr's Mill holds a 1-1 record in region play. Rain forced the postponement of last night's game at Harris County. The game has been rescheduled for Aug. 26.