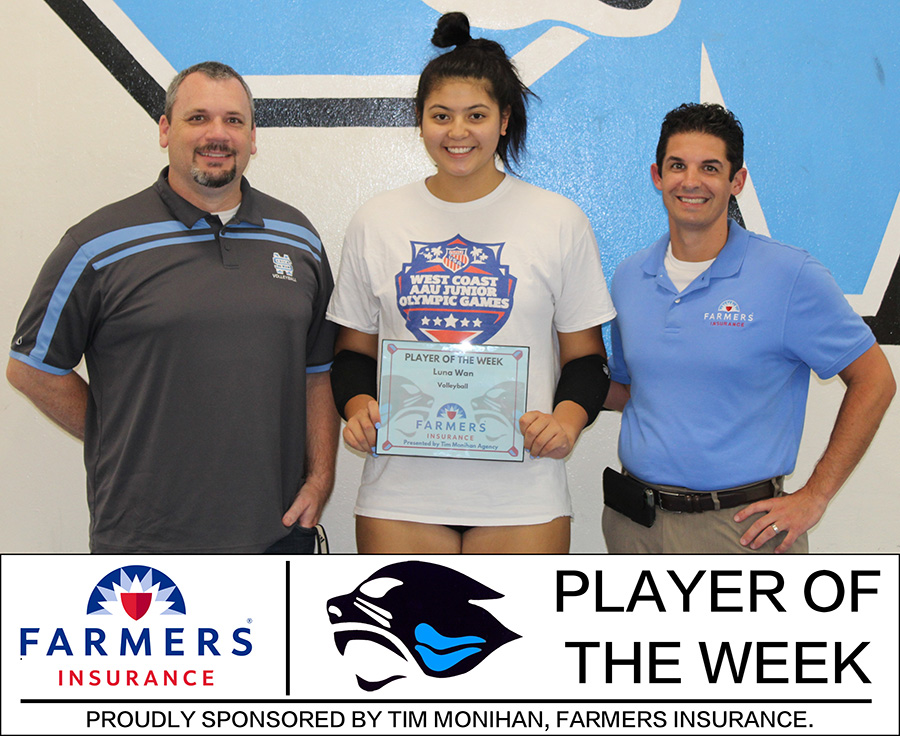 Luna Wan
Tim Monihan and Farmers Insurance recognize senior volleyball player Luna Wan as the second Player of the Week for the 2020-2021 school year. 
"I honestly just hope for a season that we get to finish… I'm really glad we had senior night early on so we can celebrate it and just get to work so we can play," Wan said. "I think my drive is just thinking of the next step, winning every game, and hopefully winning state."

Wan joined the Lady Panthers this past year, bringing beach volleyball experience from California. Volleyball coach Jason Flowers sees her experience as a part of what makes her such a versatile and valuable player.  
"She got along great with all the girls and immediately had an impact on how we play," Flowers said. "So even though she does have height and power, which an outside front row player needs, she also has really good hands to move the ball in places where we can score." 
In their most recent match against Heritage, Wan walked away landing 17 assists and 5 kills for the team. For the season, she leads the team with 86 assists, and also has 40 kills, 83 serve receptions, and 57 digs.
This weekend, the Lady Panthers host the Southside Invitational. Play begins Friday at 5:30 p.m. when Starr's Mill (4-4) matches up against East Coweta (1-5).