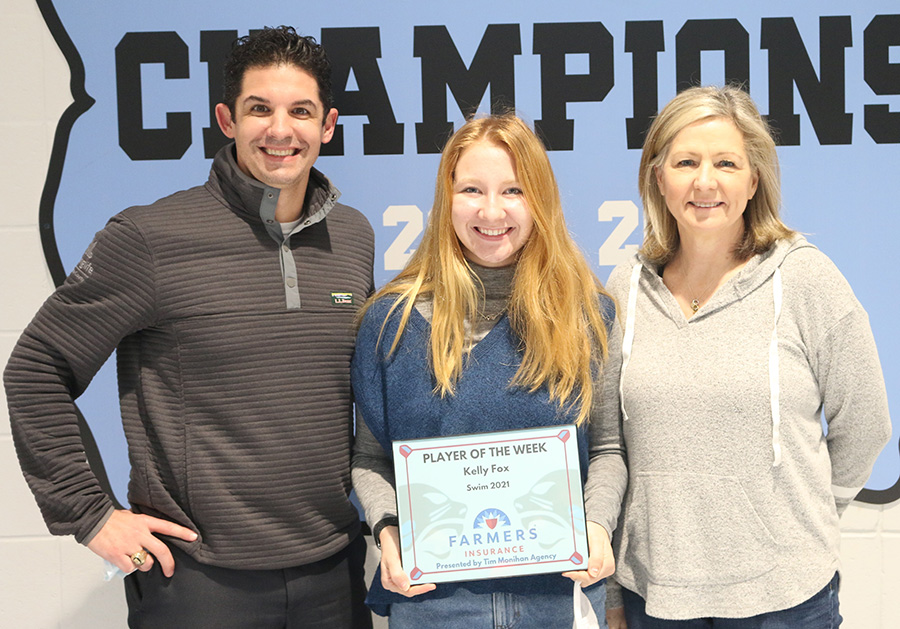 Kelly Fox
Tim Monihan and Farmers Insurance recognize senior Kelly Fox as the fourth player of the week for the winter sports season.
"I'm very supportive, and everybody calls me the mom of the team because I'm always there for everybody to talk to," Fox said. "I also bring a lot of advice for the younger swimmers."

According to head coach Robin Huggins, Fox is a leader on the team and she is well respected by her teammates. In last weekend's county championships, Fox won the 200-yard medley relay with fellow seniors Avery McFaddin and Lauren Presley and junior Alana Burrows, recording a time of 1 minute, 54.25 seconds.
"[Fox's achievements] show what hard work and determination and a good attitude make," Huggins said. "She achieved her goals."
Huggins also mentioned that Fox has wanted to swim in an individual event at state. Fox reached this goal at the swim team's last meet by finishing second in a 50-yard freestyle with a time of 26.14 seconds, which is below the state qualifying time of 26.50 seconds. 
Last weekend, Fox and her fellow Starr's Mill teammates won the county championship for the 21st year in a row. The girls team won overall with 390 points, while Whitewater finished second with 254 points.
Panther swim will compete at the state meet on Feb. 3 at the Georgia Tech Aquatic Center. However, no spectators are allowed due to COVID-19 regulations.