Grant Dougher
Tim Monihan and Farmers Insurance recognize senior Grant Dougher as the sixth Player of the Week for the 2022 fall sports season.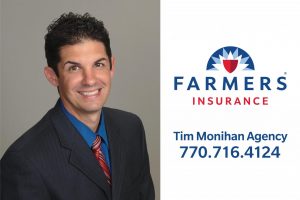 "[Dougher] is one of our top runners," head coach Kelly Rock said. "He is leading both on and off the field."
At the Carrollton Orthopaedic Invitational on September 10, Dougher placed 29th in the 5000m event with a time of 17 minutes, 26.06 seconds.
"I am one of the team captains," Dougher said. "So I have to bring the team together and be a good example."
Following Dougher, were junior Diego Ramos in 36th place and senior Nat Miller in 40th place.
Overall, the Starr's Mill boy team came in 7th place with 220 points. Westminster won the event with 148 points, 10 ahead of second place Carrollton High School.
"We've gotten a lot better," Dougher said. "We've gotten a lot faster and stronger."
The next cross-country meet is the Coach Wood Invitational on September 24 at the McIntosh Nature Preserve in Whitesburg, Georgia.
We welcome your comments, but only those comments that are appropriate for a high school publication will be posted. Comments that are derogatory or use inappropriate or vulgar language will not be posted.