Bo Walker
Tim Monihan and Farmers Insurance recognize junior Bo Walker as the eighth Player of the Week for the fall sports. 
Walker's 58-yard touchdown reception with two minutes remaining sent last Friday's game into overtime. Walker had a total of four receptions for 87 yards and one touchdown.
"He had a 58-yard touchdown reception, had a great catch, and outran the LaGrange secondary to the endzone," head coach Chad Phillips said. "Logan Inagawa threw a pretty pass, [Bo] caught it, and he scored. He also played very well on defense."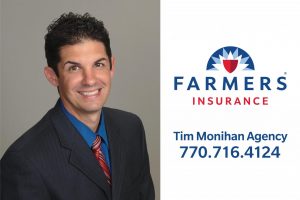 The Panthers won 25-24 in overtime. After LaGrange scored on a 10-yard touchdown pass, Starr's Mill responded with a 3-yard touchdown run by senior Greigh Joseph. Junior Andersen Cardoza punched it in for the two-point conversion and the win. 
"I do my best to help out in any way I can, and just do my best," Walker said. "It's definitely a blessing, [and I am] just trying to work my hardest every day."
Starr's Mill utilized the passing game more in last week's game. Sophomore quarterback Logan Inagawa completed 11 out of 17 passes for a total of 169 yards. He also had two interceptions and one touchdown in the game. 
"[Bo has] a lot of game experience," Phillips said. "[He's a] very athletic kid, very knowledgeable, and really understands the game's defense."
Starr's Mill Panthers hosts Troup County tonight at 7:30 p.m. Troup is coming off a 43-33 win over Whitewater. Starr's Mill and Troup County are currently ranked in the top 5 in AAAA.
We welcome your comments, but only those comments that are appropriate for a high school publication will be posted. Comments that are derogatory or use inappropriate or vulgar language will not be posted.