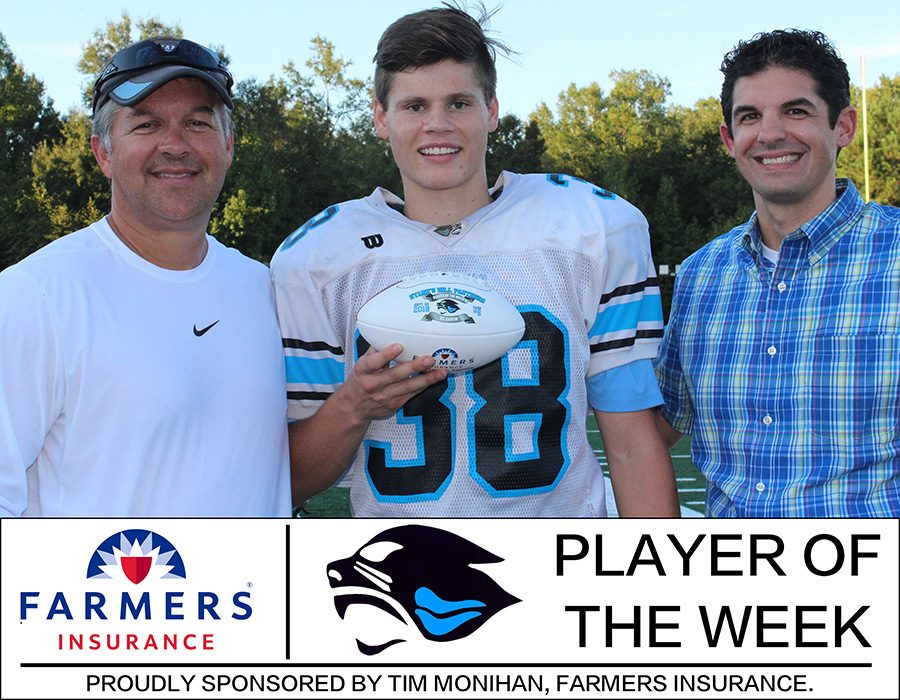 Tim Monihan / Farmers Insurance
Michael Lantz
Tim Monihan and Farmers Insurance have presented senior kicker Michael Lantz with the ninth Player of the Week award for the 2018-2019 school year.
"I feel like any field goal can help with momentum," Lantz said. "It puts points on the board after a long drive for our offense."

Lantz was one for one on field goal attempts in the Panthers' 38-6 win over Griffin.  On the season, Lantz has made five of his nine field goal attempts and is 23 of 23 on extra points. On kickoffs, he has forced a touchback on all but three kicks. The senior also averages 37.1 yards per punt.
"[Lantz] gives us big advantage when each team has to start out at the 20 [yard line]," defensive coordinator Jeff Schmidlkofer said. "[Lantz] puts the ball in the endzone after we score, and teams have to go 80 yards to beat us."
Starr's Mill travels to Whitewater tonight for a matchup against a Wildcat team still looking for its first win of the year. Following a 14-0 loss to Jonesboro, Whitewater needs a bounce-back win to keep their playoff hopes alive, and upsetting the Mill would rattle region standings. The contest is at 7:30 p.m. at Whitewater High School.