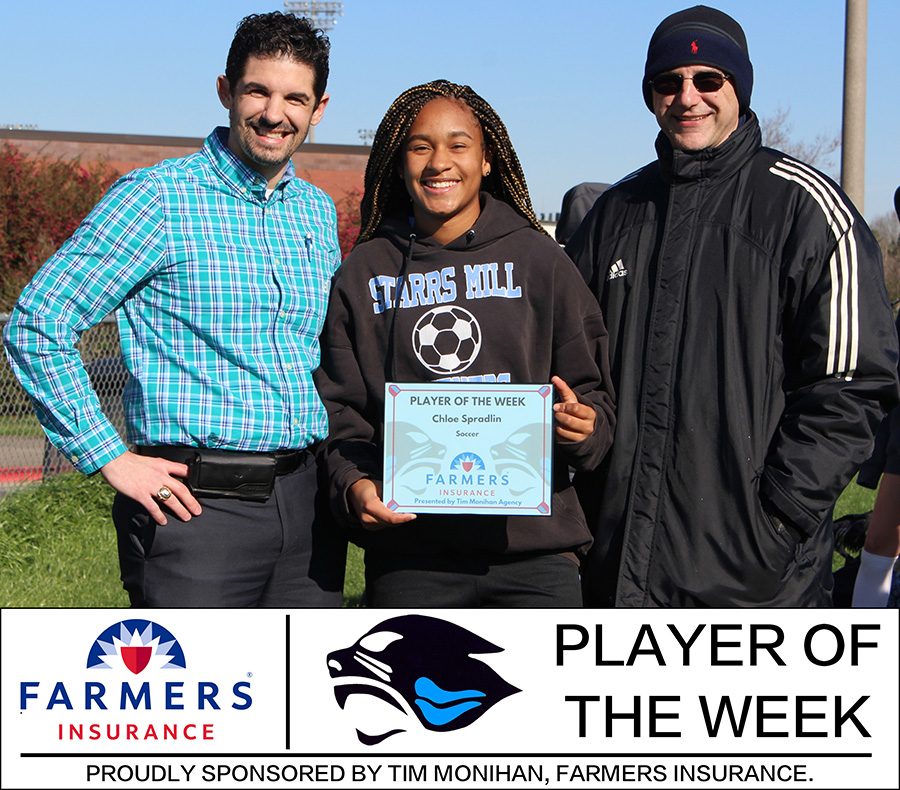 Tim Monihan / Farmers Insurance
Chloe Spradlin
Tim Monihan and Farmers Insurance have named junior Chloe Spradlin the second Player of the Week recipient of the spring sports season.
"She has done real well in her new position, we moved her out of her comfort zone," head coach John Bowen said. "She has been a good leader on the leadership team."

Spradlin has stepped up on a younger team and helped lead the offense. With only two returning seniors, Spradlin was able to make her voice heard on the field. She heads the offense that consists of one more junior and a sophomore. This season, she has scored three goals and has three assists.
"I always do it for the team and the people around me," Spradlin said. "If I didn't do my part, I'd be letting the rest of the team down."
Prior to this past Tuesday's 2-1 loss to Newnan, only one team had scored against the Lady Panthers. Greater Christian Atlanta scored four goals in the season opener. All six Starr's Mill (6-2) wins have been shutouts.
"I went through some emotional hardships this week," Spradlin said. "I think [I was nominated] because I power through those hardships and ended up scoring twice against Alexander."
The Lady Panthers will play at 6 p.m. tonight in Panther Stadium against region rival Whitewater.