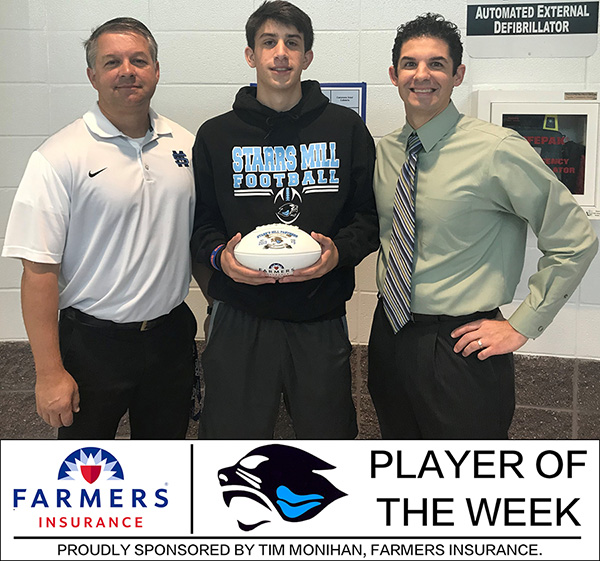 Tim Monihan / Farmers Insurance
Christian Castillo
Tim Monihan and Farmers Insurance recognize senior kicker Christian Castillo as the 13th Player of the Week for the 2019-2020 school year.
"[Castillo]'s leg strength has really gotten better," head coach Chad Phillips said. "He's just really improved a lot."

Castillo joined the team along junior Connor Marke in order to replace former kicker Michael Lantz. He is responsible for the short-mid range field goals and extra points. Castillo is 33-for-34 on extra points this season.
Last week against Riverdale, Castillo went a perfect six-for-six in PATs, including a game-winning extra point that gave Starr's Mill a 42-41 victory over the Raiders.
"Riverdale was a good team. We had to battle to win," Castillo said. "During our bye week we did two best of best overtime periods, and when the real situation came, we looked better than Riverdale did in overtime, so that's why we won."
The Panthers host their final game of the regular season against the Fayette County Tigers tonight at 7:30 p.m. A win gives Starr's Mill its fourth-straight region championship, something never done in the history of football in Fayette County.