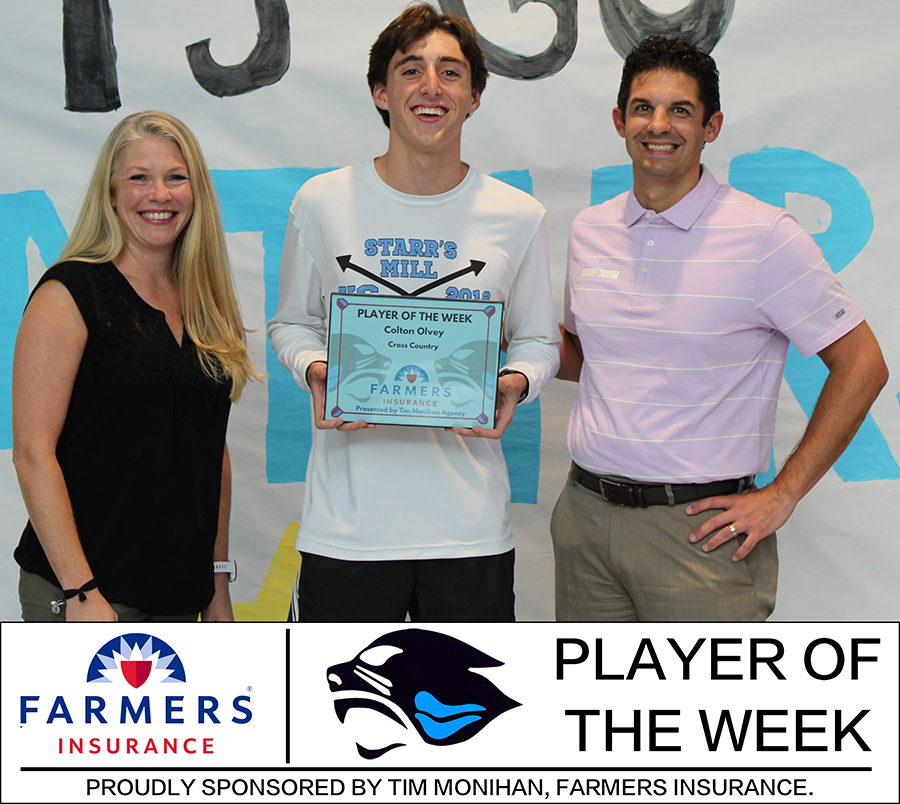 Colton Olvey
Tim Monihan and Farmers Insurance recognize senior cross country runner Colton Olvey as the third Player of the Week for the 2020-2021 sports season.
"The end goal in sight, we want to place well in region and state," Olvey said. "Knowing we can do really well keeps me motivated to continually try to get better."

Olvey has been running for Starr's Mill since his freshman year. According to head coach Kelly Rock, Colton is also a strong leader for the team. He makes sure all the new runners feel welcomed to the cross country team. 
"What an incredible leader he has been for the team so far this season," Rock said. "[He] is willing to put in any extra effort to become a better leader for the team."
Olvey finished highest among Starr's Mill runners at the Bob Blastow Early Bird Invitational on Aug. 22. He set a new personal record in the 3-mile race where he placed 6th with a time of 15 minutes, 44.98 seconds. 
Other top finishers for Starr's Mill included Joseph Muzzillo in 7th and Kolby Smith in 10th. Patrick Motes from Rome High School won the event with a time of 15:18.17
Starr's Mill hosts the annual AT&T Panther Invitational tomorrow at One Church, formerly Heritage Christian Church, in Fayetteville. The first varsity race begins at 7:30 a.m.