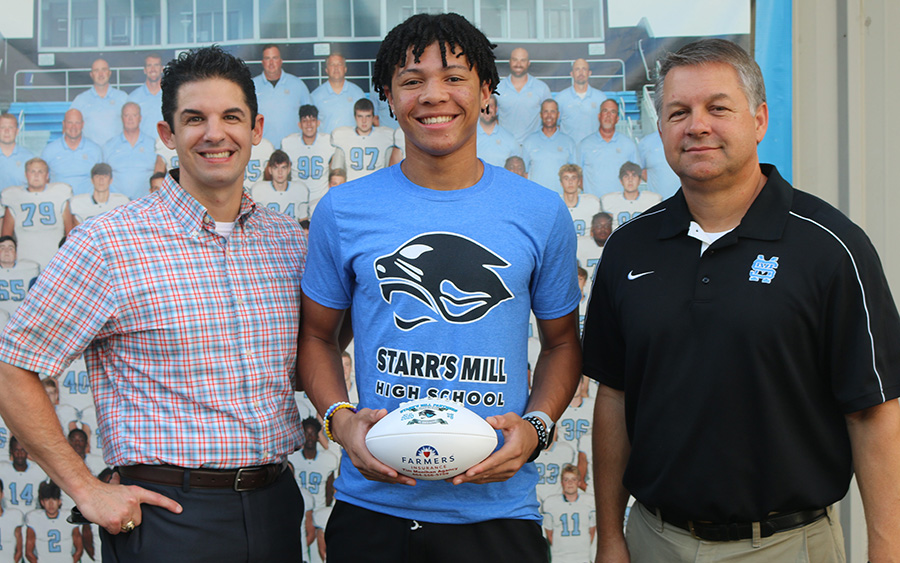 Marc Stampley
Tim Monihan and Farmers Insurance recognize junior free safety Marc Stampley as the 14th Player of the Week for the 2020-2021 school year. 
"I just feel like we played well together and I was able to contribute well to the team and we had a great game overall," Stampley said. "We have [the opponents'] offense not being able to do anything. We just play lights out on defense, and I'm able to move the ball on offense."

Starr's Mill is in the midst of a seven-game win streak. The offense has shown great strides under sophomore quarterback Will Yarbrough. Last Friday, Stampley contributed a receiving touchdown in the team's 42-0 win over Whitewater.
"He is a very good defensive player, he's a very athletic player, and he's got very good leadership," head coach Chad Phillips said. "This is his first year playing with us, and he's just understanding how we do things, the speed and the tempo, and just how we do things."
The defense has posted four shutouts this season, while allowing 6.5 points per game through eight games.
Stampley and the rest of the Panther football team play at McIntosh this Friday. Kickoff is at 7:30 p.m.