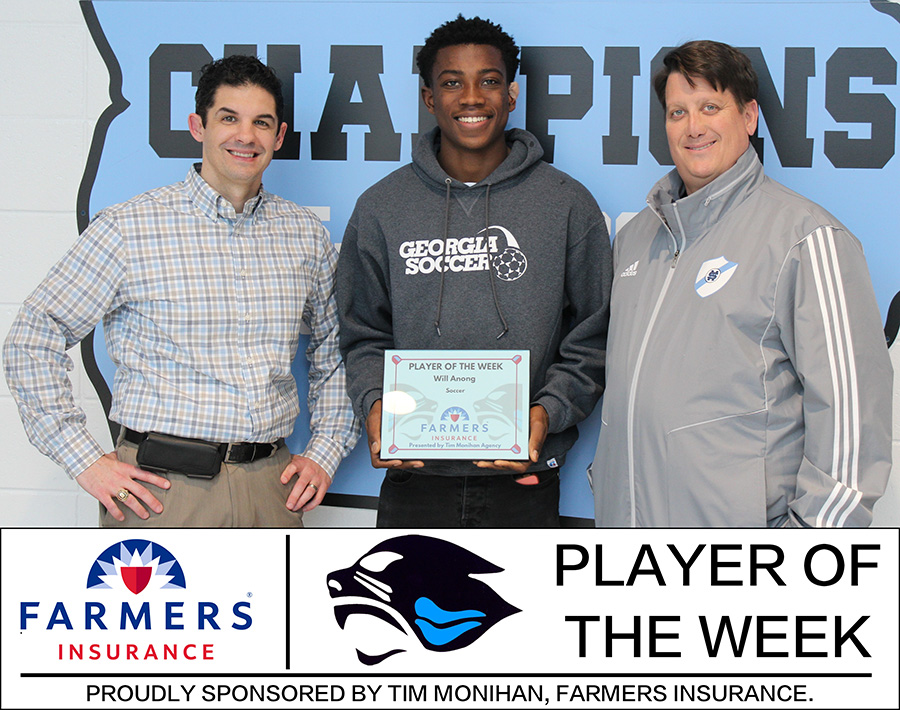 Will Anong
Tim Monihan and Farmers Insurance in Peachtree City presented senior soccer player Will Anong with the first Farmers Insurance Player of the Week award for the spring sports season.
"He's been a great player for us on the field, and he's a leader in every sense of the word off of the field," varsity boys' soccer head coach Aaron Buck said.

Last week in the away game against Jonesboro, the Panthers defeated the Cardinals 5-1. Although Anong did not play in this match, his leadership skills on and off the field play a contributing role in the team.
"[Anong] has been in our program for four years and in regards to leadership his grades are fantastic. He understands the importance of being a student athlete," Buck said. "He's somebody who's always in training. He's always here he needs to be. And on the field it's a hundred percent all the time. You can't ask for anything else."
So far, Anong has scored in two games this season with goals against Carrollton and Riverdale. For Anong though, playing as a team with a goal for winning the state championship is more important than individual improvement.
"[I think we could improve on] working for each other," Anong said. "Sometimes I think we play individually, so we just need to work for each other and be on the same page at all times."
Friday night, the Panthers defeated Columbus 4-1 to improve to 6-2 on the season. Their next game is at 6 p.m. this Friday at Whitewater.