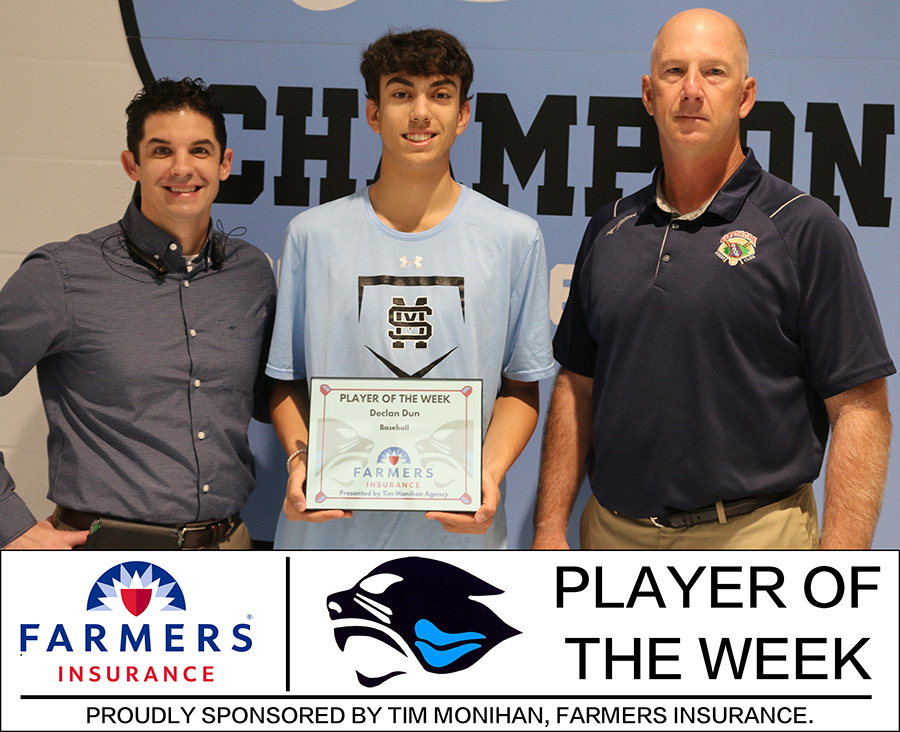 Declan Dun
Tim Monihan and Farmers Insurance award junior baseball pitcher Declan Dun as the second Farmers Insurance Player of the Week of 2020 spring sports season.
Early on this season, Panther baseball lost starting pitcher junior Eli Jones for possibly the rest of the season. The rest of the bullpen has needed to step up in lieu of Jones' absence. Dun has been one of the pitchers that has stepped up and performed well.

"[Dun] can get strikeouts," head coach Brent Moseley said. "Some guys are contact guys. Declan's a strikeout guy. He can get strikeouts when he needs to."
Last Thursday, Dun threw three strikeouts in one inning against the Fayette County Tigers. According to Coach Moseley, this past weekend Dun had five strikeouts and only gave up five hits and one earned run against Parkview.
"I don't think I stand out [from the bullpen]," Dun said. "I just think everyone this weekend pitched really great and I think [this award] could have gone to anybody pitching."
Due to continued rainy weather, Starr's Mill will play their postponed series against Riverdale today and Monday. The team's next three-game series begins March 17 at Panther Stadium against McIntosh. Game time is set for 5:30 p.m.