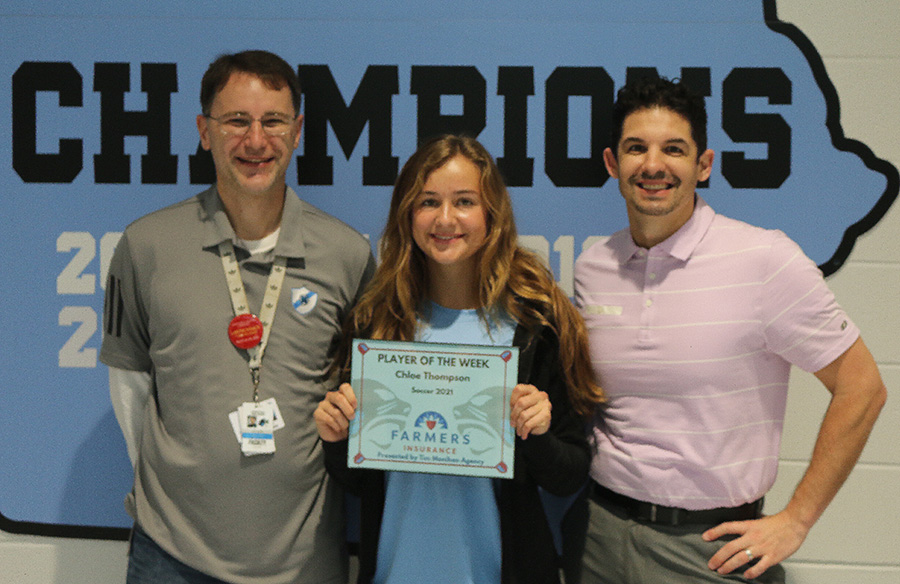 Chloe Thompson
Tim Monihan and Farmers Insurance recognize senior forward Chloe Thompson as the fourth Player of the Week for the 2021 spring sports season.
When asked what she brings to the team, Thompson said, "Probably talking to everyone and having a lot of friends on the team. I think I talk to everybody on the team, so I kind of help [everyone] get more talkative and excited [for games]."

According to girls varsity soccer head coach John Bowen, Thompson had high defensive intensity up top in last Friday's game. She blocked clearances, worked hard to win the ball, and forced the ball into places where her teammates could defend more easily.
"[Thompson] is a complete player," Bowen said. "She works hard on both sides of the ball and just really kind of puts her heart and soul into what she does."
In last Friday's game against Northside, Thompson scored three goals and had one assist to junior Maddi Defler. The 4-1 victory guarantees the team a spot in the AAAAA state playoffs. The Lady Panthers are currently 8-2-3 overall, and sit right behind McIntosh in the region standings.
Starr's Mill plays at East Coweta tonight at 6 p.m. in a non-region match. After another away match at Griffin on April 30, the Lady Panthers travel to McIntosh on April 1 for the most anticipated contest of the regular season.