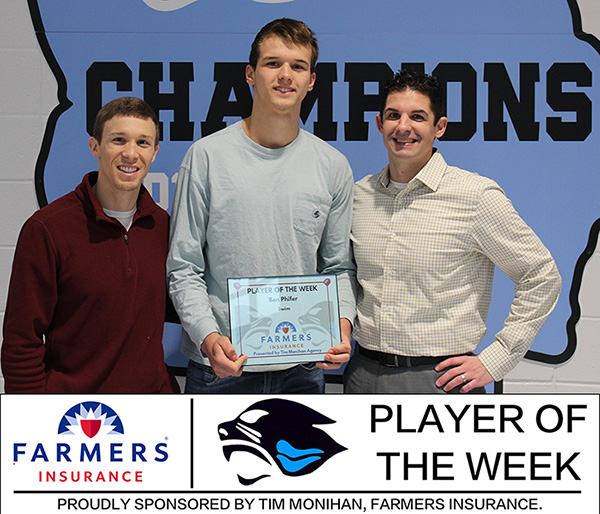 Ben Phifer
Tim Monihan and Farmers Insurance have named senior swimmer and Yale commit Ben Phifer as the fourth Player of the Week for the 2019-2020 winter sports season.
"It's a real awesome experience being a part of his maturation leading up to him going to Yale and just becoming the swimmer he is," swimming coach Derek Abrams said. "He's just a great overall swimmer and leader."

Starr's Mill swimming has had a successful year, and it is Phifer that has been the ringleader. At the county meet, Phifer's team took first in the 200 yard relay with a time of 1:39.63. He also won the 200 yard individual medley with a time of 1:59.75. Phifer also placed first in the 100 yard breaststroke with a time of 1:00.11. His performances helped Starr's Mill take a first place spot at the county meet for the 20th straight year
"[As the top dog] you really have a big responsibility to make sure all the other swimmers rise as well," Phifer said. "That's what I'm trying to do. Make sure all the freshmen know that there's a long road ahead of them but they can still do it."
The Panther swimming team will head to Georgia Tech to compete at the state meet on Feb. 8. Competing for Starr's Mill will be juniors Avery McFaddin and Lauren Presley, and sophomores Kenzie Tucker and Alana Burrows for the girls, and seniors Phifer and Tommy Roach, juniors Michael Tucker and Hayden Wiberg, and sophomores Seth Roach and Sammy Sayant.