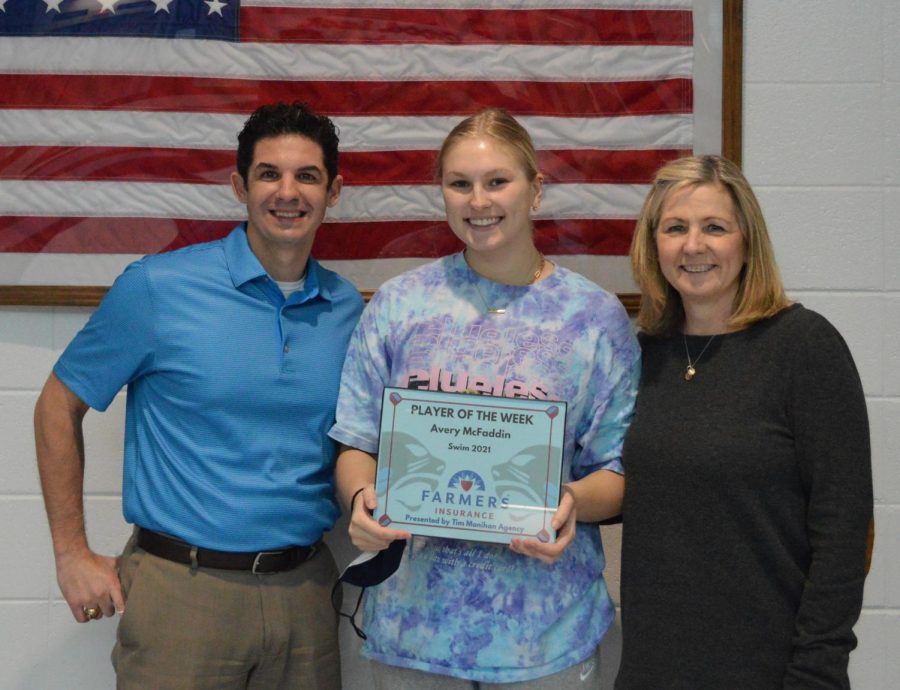 Avery McFaddin
Tim Monihan and Farmers Insurance recognize senior Avery McFaddin as the seventh Player of the Week for the winter sports season.
"I like to hope that I bring some leadership [to the team] and a positive attitude, for everyone," McFaddin said. 

This is a special Player of the Week because head coach Robin Huggins didn't actually pick Avery. The Prowler staff did after hearing about her performance at the state meet. McFaddin won two individual state championships in less than 30 minutes.
"She is one of our captains, a leader on our team, and has been a leader throughout her high school career, and last Wednesday she swam the meet of her high school life," Huggins said.
At the AAAAA state competition on Feb. 3, McFaddin placed first in the 50-yard freestyle with a time of 23.04 seconds, over a second faster than the second-place finisher. She also won the 100-yard butterfly with a time of 54.65 seconds, nearly two seconds faster than the second-place finisher. The girls team placed fourth overall, after winning its 21st straight county championship on Jan. 23.
Junior Seth Roach joined McFaddin as an individual state champion last week, winning the 100-yard backstroke. Roach also finished second in the 100-yard butterfly.
Senior Michael Tucker had a pair of third place finishes in the 100-yard butterfly and the 200-yard individual medley. The boys team placed fifth overall.