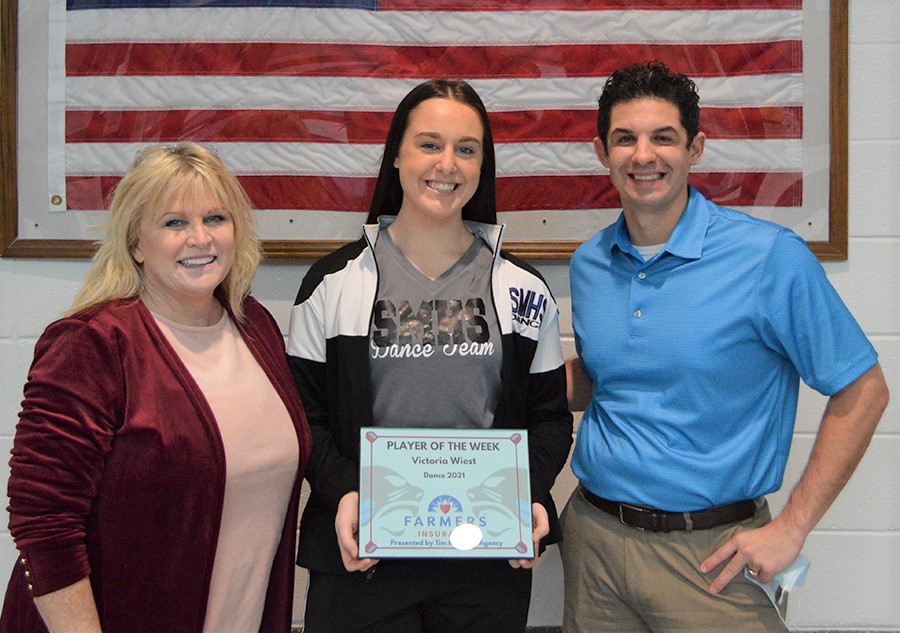 Victoria Wiest
Tim Monihan and Farmers Insurance acknowledge senior dance team member Victoria Wiest as the eighth Player of the Week for the winter sports season.
"My favorite part about being on the team is probably how close we all are and we can tell each other anything, which just really helps when we're all on stage," Wiest said. "I feel like I'm very honest, and I can tell people what they're doing wrong and help fix things fast."

According to head coach Patt Coleman, Wiest is a strong leader on the team. She has helped lead her teammates to several victories this season. She also played a part in choreographing the team's hip-hop routine, which they performed before home football games last fall.
When asked why she picked Wiest for Player of the Week, Coleman said, "[Wiest]'s leadership skills. With this being such a difficult year, […] I had to have strong officers."
This entire season, the team has not finished lower than second place in jazz or pom competitions. They had the overall high score at the West Laurens High School Sapphire Showcase and earned Best Crowd Appeal at the Heritage 5-Star Invitational.
The team followed up a stellar regular season by winning state on Feb. 13. They scored highest among AAAAA and AAAAAA schools in both pom and jazz routines.