Will Yarbrough
Tim Monihan and the Farmers Insurance recognize junior quarterback Will Yarbrough as the ninth Player of the Week for the 2021-2022 sports season.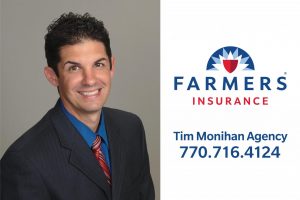 "He is a very influential player. He plays quarterback and corner on defense,"  head coach Chad Phillips said. "He brings a competitive spirit to the team."
In the team's 42-20 win over Harris County to begin region play, Yarbrough rushed eight times for 67 yards and one touchdown. He also had one kick return for 19 yards.
"The team could put me anywhere they want, and I could help them with the plays," Yarbrough said.
On the season, Yarbrough has completed 10 of his 24 passes for 151 yards including one touchdown. He has only thrown one interception. He is averaging 6.1 yards per carry on 40 attempts for 244 yards. Currently, he is third on the team in rushing attempts and yards, and tied for second on the team in touchdowns with four.
Starr's Mill hosts Northgate tonight at 7:30 p.m. in the team's second region matchup of the season. Last year, Starr's Mill beat Northgate 10-0.