Tani Alofe
Tim Monihan and Farmers Insurance recognize sophomore Tani Alofe as the ninth Player of the Week for the 2022 spring sports season.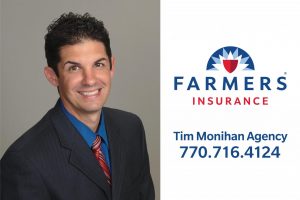 "When she shows up to practice, she works," track head coach Chad Walker said. " She has done an amazing job as a tenth grader." 
Alofe was top three in all of her events at the region meet earlier this week. She placed third in the 100-meter dash, finishing in 12.85 seconds. Alofe cleared 17 feet, 11.75 inches in the long jump, good enough for second place. She won the triple jump with 34 feet, 7.75 inches.  
"Just knowing when you put in a lot of work you are going to go places," Alofe said. She also loves the team aspect of track and values the friendships she has made this season.
 The girls team placed second in the region, 27.50 points behind region champions McIntosh. The qualified runners will compete at sectionals on May 7 at Union Grove.
We welcome your comments, but only those comments that are appropriate for a high school publication will be posted. Comments that are derogatory or use inappropriate or vulgar language will not be posted.