Ethan Bramblett
Tim Monihan and Farmers Insurance recognize junior Ethan Bramblett as the 10th Player of the Week for the fall sports season.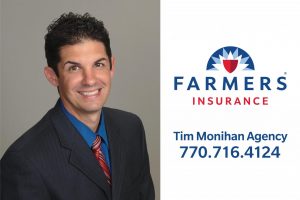 "He was a defensive leader, [and] he made a lot of tackles," head coach Chad Phillips said. "[Ethan is] very inspirational and very influential to the team."
In last week's 3-0 loss to Trinity, the Panthers held the Lions to 120 rushing yards and 47 passing yards. The entire game was a tough defensive battle between both teams.
Trinity's 21-yard field goal to begin the fourth quarter broke the stalemate. For Starr's Mill, the loss marked the team's lowest production on offense this season, gaining only 86 rushing yards and 65 passing yards. 
"We're going to fix the fundamental stuff and get the ball rolling on offense," Bramblett said. 
After last week's loss, the Panthers are now 4-2 and 1-2 in region play. The team hosts Fayette County tonight in Panther Stadium. Kickoff is set for 7:30 p.m.
We welcome your comments, but only those comments that are appropriate for a high school publication will be posted. Comments that are derogatory or use inappropriate or vulgar language will not be posted.