William Thomas
Tim Monihan and Farmers Insurance recognize senior football player William Thomas as the 14th Player of the Week for the 2022 sports season. 
"I feel honored to be selected as a lineman," Thomas said. "I think it's one of the most important positions on the team. Nothing would work if we weren't there."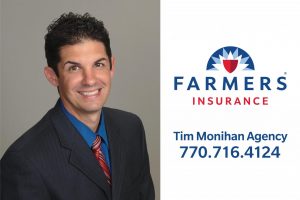 Thomas is the first lineman of the year to be selected as Player of the Week.
"The linemen don't get a lot of attention," head coach Chad Phillips said.  "They don't score touchdowns, you don't really know their name, and people in the stands don't watch what they're doing, but they're critical to our success."
Last week, Starr's Mill defeated North Clayton High School 47-6. Panther running backs had 38 carries for 380 yards. 
"Will is our only senior up there, and he's been a two-year starter, and he's a great kid," Phillips said. "He's very influential to our young players and played really well on Friday night." 
Through nine games, Starr's Mill has carried the ball 395 times for 2,093 yards and 25 touchdowns. Behind the blocking of Thomas and the rest of the offensive line, the Panthers average 224.8 yards per game and 5.1 yards per carry. 
"I'm going to play my hardest every game," Thomas said. "Hard work gets you a long way and you've just gotta keep winning." 
Currently, there is a four-way tie for second place in the region. This Friday's game against Whitewater will help set up the final seating for the playoffs. 
"It's a big game and we need everyone to come out and support it if they can, so we can win that game and move on to the playoffs," Thomas said.
Kickoff is set for 7:30 p.m. in Panther Stadium.
We welcome your comments, but only those comments that are appropriate for a high school publication will be posted. Comments that are derogatory or use inappropriate or vulgar language will not be posted.