Jackson McDaniel
Tim Monihan and Farmers Insurance recognize senior flag football player Jackson McDaniel as the 16th Player of the Week for the fall sports season.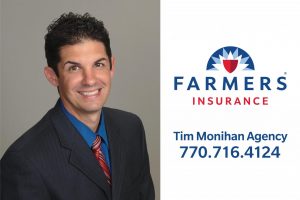 "[McDaniel is] a leader, she understands the game, she sees the field well," flag football coach Mark Williamson said. "A lot of our players are still picking up things and sometimes she has to help them."
McDaniel plays a variety of positions on offense including running back and quarterback, and defense when needed. She is a three sport athlete, playing in the inaugural season of flag football along with varsity basketball and varsity lacrosse. 
"Jackson is just right there," Williamson said. "She's just always giving you everything she's got on both sides of the ball and pushing her teammates to give everything they have as well."
The varsity flag football team won their last regular season game 26-0 against Creekside. They finished the season 8-6 overall, and 4-3 in area play.
With Whitewater's 2-0 defeat of Newnan last night, Starr's Mill moved into the No. 3 seed and qualified for the state playoffs. Opponent and game information are to be determined.
We welcome your comments, but only those comments that are appropriate for a high school publication will be posted. Comments that are derogatory or use inappropriate or vulgar language will not be posted.