Rhenart Hernandez
Tim Monihan and Farmers Insurance recognize junior basketball player Rhenart Hernandez as the fourth Player of the Week for the 2022 winter sports season.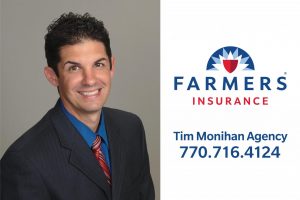 "I'm honored. Last year I got zero playing time on varsity, and this year I get to prove myself," Hernandez said. "Last year I thought I could play, and this year I'm just showing off that I can play."
Varsity boys basketball coach Joshua Reeves says Hernandez is a team leader on both the offensive and defensive ends. 
"Rhenart has averaged 14.5 points a game, and been one of our team leaders offensively and defensively," Reeves said.  "He's just a bulldog out there. He plays hard, he is aggressive, and he does everything we need him to do to be a leader on the court."
Varsity boys basketball is coming off of a pair of tough losses last weekend. The Panthers fell to Cedar Grove 63-52 Friday night. The following day, Starr's Mill fought back from being down 20 points to Northgate. Despite the second half comeback, the Vikings held on for a 59-55 win.
The Panthers have faced tough competition to begin the season and prepare for region play after the holiday break. 
This Friday, Starr's Mill hosts McIntosh at 7:30 p.m. in the Panther Pit. The team then travels to Florida for a holiday tournament December 27-29.
We welcome your comments, but only those comments that are appropriate for a high school publication will be posted. Comments that are derogatory or use inappropriate or vulgar language will not be posted.