Kali McQuade
Tim Monihan and Farmers Insurance recognize sophomore basketball player Kali McQuade as the 10th Player of the Week for the winter sports season.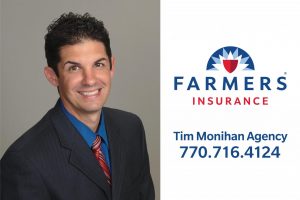 "Kali brings all of the intangibles that you want in a player," head coach AC Atha said. "She plays really hard, works hard, [and] shows up every day."
Atha says that Kali never gets too excited but also never gets too down or negative on herself. McQuade has also worked really hard this year on her shots.
Starr's Mill girls basketball recently defeated North Clayton 63-39. The team is now third in the region behind Fayette County and Trinity.
"I wanted to work on ball handling and my confidence with the ball, and I feel like it's gotten better throughout the season," McQuade said. "I've been driving a lot more, and I've just been having a lot more confidence."
This Friday varsity basketball hosts Whitewater in the final game of the regular season. The girls game begins at 6 p.m.
We welcome your comments, but only those comments that are appropriate for a high school publication will be posted. Comments that are derogatory or use inappropriate or vulgar language will not be posted.