Scott Stevens
Tim Monihan and Farmers Insurance recognize sophomore basketball player Scott Stevens as the eleventh Player of the Week for the 2022 winter sports season.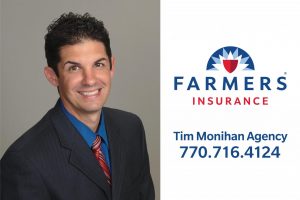 "He is just one of those kids that gets hot and just carries our team on his shoulders offensively," head boys basketball coach Josh Reeves said.
Stevens started out as the first sophomore off the bench, and is now starting and leading in points. Stevens is a shooting guard and has been the team's leading scorer to close out the season. 
Stevens scored 21 points in Friday's game against Whitewater, and had a career high of 32 points against North Clayton on February 7.
"I think I played well these past couple weeks," Stevens said. "My teammates have helped me out by giving me the ball, and I'm doing very well because of that."
Reeves commented that there should have been more energy out on the court in Tuesday's season-ending loss to Trinity, 72-44.
Panther basketball finished the season 8-18 overall, 7-7 in region play.
We welcome your comments, but only those comments that are appropriate for a high school publication will be posted. Comments that are derogatory or use inappropriate or vulgar language will not be posted.