Taylor Ratinaud
Tim Monihan and Farmers Insurance recognize junior Taylor Ratinaud as the third Player of the Week for the 2023 spring sports season.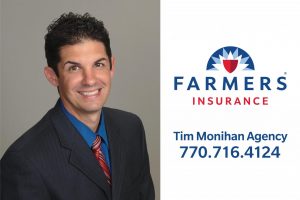 "He has been in the program for three years [and] knows the team offensively and defensively," head coach Jeff Schmidlkofer said. "He made some big plays for us last Saturday."
Coach Schmidlkofer emphasized how Ratinaud has a good lacrosse IQ, and how he can carry the stick and shoot with both hands. Ratinaud is trying to make himself very physical on defense which is what the team preaches.
"I think I contribute pretty well," Ratinaud said. "I feel like I'm a good leader on and off the field, and I try to do my best at playing."
After last weekend's win against South Forsyth 8-3, the Panthers are 7-2 overall (2-0 in area).
The Panthers travel to play Buford this weekend. The team's next home game is not until March 28 when they host area opponent Whitewater.
We welcome your comments, but only those comments that are appropriate for a high school publication will be posted. Comments that are derogatory or use inappropriate or vulgar language will not be posted.