Mason Stallings
Tim Monihan and Farmers Insurance recognize junior Mason Stallings as the seventh Player of the Week for the 2023 spring sports season.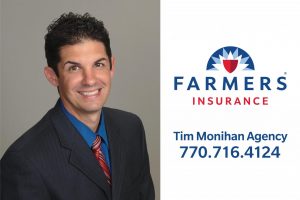 "He's played defender for us almost every minute of every game," head coach Aaron Buck said. "We've had a really good defensive record this year because Mason has been there giving us a consistently great effort every time he's at a practice or a game." 
The Starr's Mill boys soccer team finished the regular season 9-7 overall and 5-2 in region play. This season, the Panthers outscored region opponents 27-5. They finished second in the region behind LaGrange. 
"We've been working well together," Stallings said. "The past few games we've really seemed to click right going into the playoffs." 
Stallings and his fellow Panther teammates defeated Southeast Bulloch 7-0 last night in the first round of the state playoffs. Starr's Mill will play the winner of Baldwin vs. Cairo.
We welcome your comments, but only those comments that are appropriate for a high school publication will be posted. Comments that are derogatory or use inappropriate or vulgar language will not be posted.