Lucia Greco and Claire Rockett
Tim Monihan and Farmers Insurance recognize doubles partners Lucia Greco and Claire Rockett as the ninth Player of the Week for the 2023 spring sports season.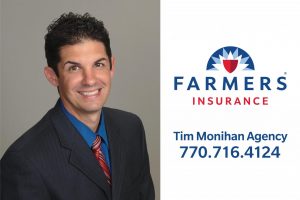 "Lucia is our number one doubles player, and she is just a strong veteran on the team," head coach Amy Evert said. "Same for Claire. She has matured so much, and she is great at bringing the girls together with good sportsmanship." 
The girls tennis team finished the regular season 13-4 overall and 6-0 in region play. After placing second in the region tournament, the girls hosted the first round of state playoffs.
"This season I feel like I've improved on doubles strategies and my connection with my partner," Greco said. 
Greco, Rockett, and their teammates defeated Islands 3-0 to advance in the playoffs.
"I feel like I improved by staying aggressive at the net and communicating well with my parenter," Rockett said.
Starr's Mill girls tennis travels to Bainbridge this Tuesday for a second round playoff match against Bainbridge High School.
We welcome your comments, but only those comments that are appropriate for a high school publication will be posted. Comments that are derogatory or use inappropriate or vulgar language will not be posted.