Grace Crockett
Tim Monihan and Farmers Insurance recognize freshman Grace Crockett as the 10th Player of the Week for the 2023 spring sports season.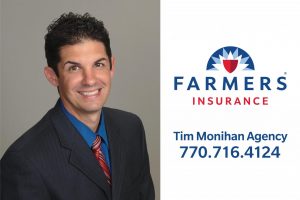 "She's been very consistent for us," head coach Burt Waller said. "She works hard at it, and you can see the improvement." 
To begin the season the girls placed second behind a 7A school at the Brookstone Tournament , which set the tone for the rest of the season. On March 21 the girls won the Lady Granger Invitational with Crockett leading the team shooting the lowest score. 
"[It's important] to be patient because sometimes things don't go your way," Crockett said.  "You have to keep working."
Crockett and her Starr's Mill teammates won the Region 1-AAAA championship on April 27. Crockett and fellow freshman Emily Stanek both shot the second lowest score. 
Sophomore Amani Mehta shot the lowest round of the championships. Starr's Mill finished 1-5 on the scoreboard. The team will now begin preparing for the state championships held in May.
We welcome your comments, but only those comments that are appropriate for a high school publication will be posted. Comments that are derogatory or use inappropriate or vulgar language will not be posted.