Andrew Scott
Tim Monihan and Farmers Insurance recognize senior Andrew Scott as the 12th Player of the Week for the 2023 spring sports season.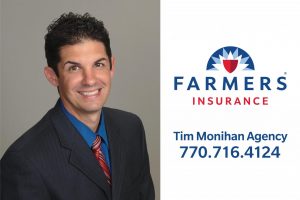 "Andrew has been one of our best pitchers all year, our most consistent pitcher all year," head coach Brent Moseley said. "Last week he had a really good outing and is very deserving of [Player of the Week]."
Varsity baseball is currently on a five-game winning streak. They swept Bainbridge in a doubleheader earlier this week. The pair of wins moves the Panthers into the AAAA quarterfinals.
"Lately I have been putting in a lot of work. I have been doing my thing on the mound. We just got into the Elite 8, which is our third year in the row," Andrew Scott said. "I've been getting the team pumped up whenever we are feeling down. When I go out there, I'm high energy, and I'm trying to get the team into the game."
The Panthers are 20-9 overall this season. Starr's Mill hosts Westminster in a doubleheader this Saturday. First pitch is scheduled for 4 p.m.
We welcome your comments, but only those comments that are appropriate for a high school publication will be posted. Comments that are derogatory or use inappropriate or vulgar language will not be posted.