Josh Phifer
Senior Josh Phifer has been chosen as the 13th Player of the Week for the 2023 spring sports season.
"Josh is a senior and he's had a great season, but the last few weeks he's struggled with the discus.  Then, he came out at the state meet, and he was the first thrower and threw the state-winning distance on his first throw," head coach Chad Walker said. " It was a good way for him to finish off his senior year, and it was well deserved."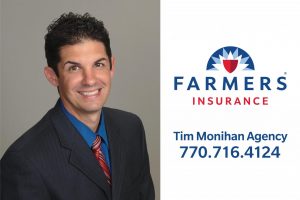 Josh finished his senior year on the Starr's Mill track and field team breaking the school record with a discus throw of over 161 feet.
"I went out there and performed the way I should've," Phifer said. "I'm really honored to get Player of the Week on one of the last weeks I could get it." 
Phifer will not be continuing his track career in college. He has committed to play football at James Madison University. 
The boys had a great overall performance at the state meet. Junior Ethan Aguilera-Morton finished sixth in the 800-meter race, senior Denver Oates finished in sixth place in both the 800-meter and 1600 meter races, and senior Grant Dougher finished seventh in the 3200-meter race. 
The boys 4×400 relay team, consisting of Aguilera-Morton, sophomore Jerrod White, and seniors Nikitia Jones and Bentley Weston, finished sixth in their race. The 4×800 relay team, made up of Aguilera-Morton, Oates, sophomore Bankson Roach, and junior Cannon McFall, placed second in their race, setting a new school record. 
Senior Tito Alofe jumped 6 feet, 8 inches in the high jump and cleared 48 feet in the triple jump, winning two state titles. Alofe also placed second in the long jump. Junior Blake Necessary finished in sixth place for the pole vault, while sophomore Jared Moore placed second and senior Greigh Joseph placed third in the shot put.
"It was the best performance we've had in Starr's Mill history," Walker said. "We work hard as a team, and they knew what they had to do."
The boys finished runner-up in the AAAA State Championship, scoring 77.5 points overall. Southwest Dekalb placed first overall.
We welcome your comments, but only those comments that are appropriate for a high school publication will be posted. Comments that are derogatory or use inappropriate or vulgar language will not be posted.