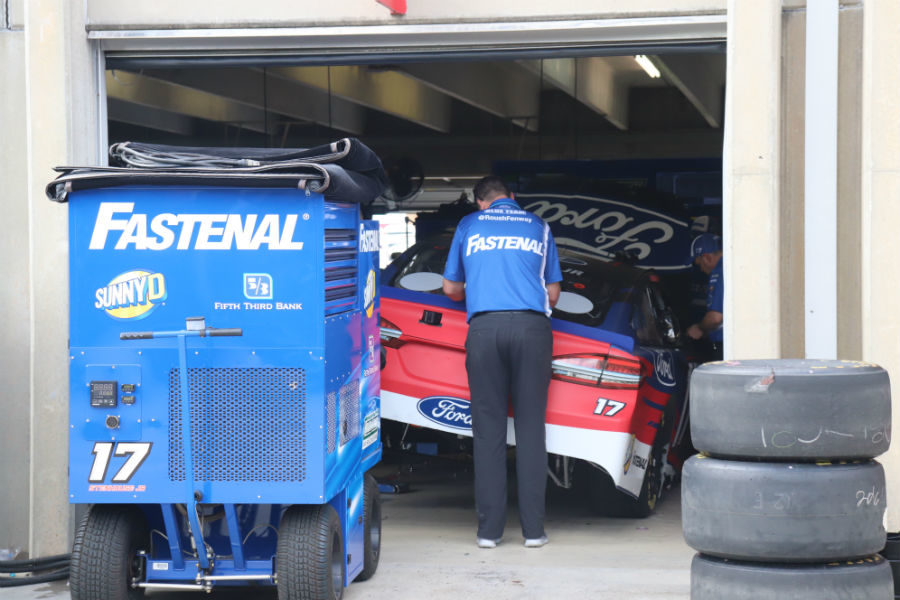 Stenhouse Jr. finishes first in MENCS practice session
March 12, 2018
Ricky Stenhouse Jr., driver of the No. 17 Ford for Roush Fenway Racing, ended the first and only Monster Energy NASCAR Cup Series practice session of the day with the fastest speed of 186.384 mph and lap time of 29.745 seconds. He ran a total of 19 laps in the session.
"Right now I feel really good," Stenhouse Jr. said. "It's always nice to get on the first mile-and-a-half [track] of the year and see where everybody's speed is, how your car is driving, and really just where you stack up with everybody."
Stenhouse Jr. led the practice session as the only Ford in the top five, followed by four Chevrolet Camaros. Kyle Larson, who only turned five laps in the No. 42 for First Data Chevrolet, had the second fastest speed of 185.915 mph, 29.820 seconds. Darrell Wallace Jr. had the third fastest speed of 185.834 mph and lap time of 29.833 seconds. Ty Dillon turned the fourth fastest lap at 185.648 mph, 29.863 seconds. Alex Bowman rounded out the top five with a speed of 185.294 mph and lap time 29.920 seconds. 
"The track is going to change up a lot. [There] will be three or four more practices before we qualify and that will change how your car handles with more rubber on the race track. [It] will be interesting to see what changes we need to make to be good tonight before qualifying."
Last year's MENCS champion, Martin Truex Jr., finished 10th with a speed of 184.572 mph and lap time of 30.037. While 2017 Folds of Honor Quiktrip 500 winner Brad Keselowski finished 24th in this session with a speed of 182.693 mph and lap time of 30.346 seconds. Champion of last week's Daytona 500, Austin Dillon, finished 28th with a lap of 30.503 seconds and a speed of 181.753 mph.
Dawsonville's Chase Elliott turned 13 laps in the practice session, finishing 29th with his fastest lap 181.574 mph and 30.533 seconds.
David Ragan from Unadilla, driver of the No. 38 for Front Row Motorsports. He was 27th in the practice session with a speed of 182.075 mph and lap time of 30.449 seconds.
The Monster Energy NASCAR Cup Series drivers get back in their cars at 5:15 p.m. for qualifying later today.