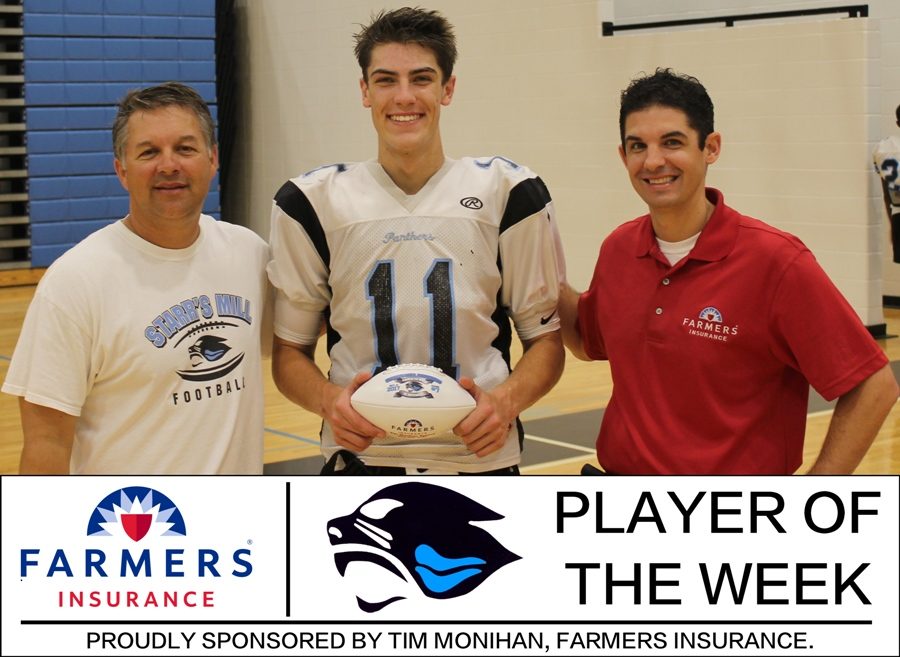 Courtesy of Tim Monihan
Joey DeLuca
Farmers Insurance in Peachtree City presented senior Joey DeLuca with the seventh player of the week award for the 2017-2018 school year.
DeLuca threw for 107 yards, ran eight times for 40 yards, and scored a touchdown in the last week's region game. DeLuca's leadership skills and drive led Starr's Mill to a 43-21 victory over Whitewater.

"The team did a great job blocking and was able to put me in positions where I was able to make big plays," DeLuca said.
DeLuca's impressive highlight of last week's game was the 62-yard completion to senior wide receiver Brandon Rew. DeLuca's impressive skills have led his team to a 6-1 record.
"Joey has a lot of experience. He's an aggressive runner, and he's a good leader," coach Chad Phillips said. "He's got self-confidence which makes him a great player."
On Oct. 13, Starr's Mill will seek to maintain the top region position against their rival McIntosh in the Battle of the Bubble.  The game begins at 7:30 p.m.
"We all work hard and play at a really high tempo in practice, which leads us to success," DeLuca said.