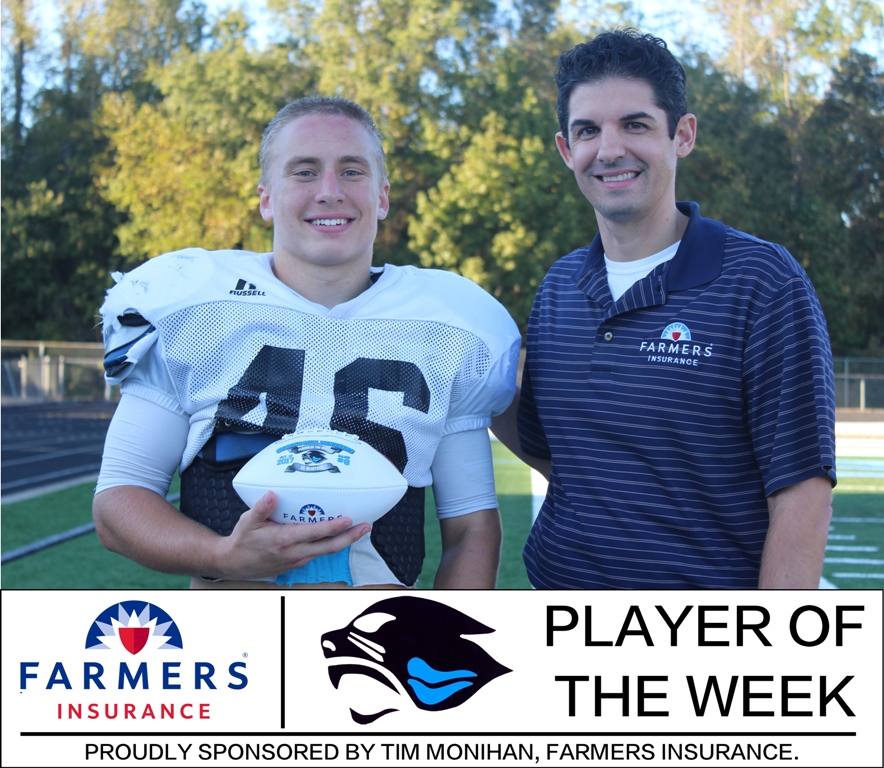 Courtesy of Tim Monihan
Mitchell Prowant
Tim Monihan and Farmers Insurance in Peachtree City awarded senior Mitchell Prowant with the eighth player of the week award for the 2017-2018 school year.
Prowant ran the ball eleven times for 140 yards, caught a pass for nine yards, and scored a touchdown in last week's 36-35 victory over McIntosh.

"Making game changing plays feels pretty great, but I couldn't make those plays if it wasn't for the line doing their job," Prowant said.
Prowant showcased his talent in last week's game with an impressive 52-yard rushing touchdown. Prowant's agility and immense run-game has helped lead the Panthers to a 7-1 start this season with only two regular season games remaining.
"He's tough, one of the toughest kids we got," head coach Chad Phillips said. "He's fast, he's selfless, and he can play any position on the field with intensity."
On Oct. 27, Starr's Mill travels to take on Riverdale.  A win will keep alive the team's chances of the No. 1 seed in region 3-AAAAA. The game starts at 7:30 p.m.
"This win means a lot to the team, because it increases our chance to win the region, and it always feels good to beat McIntosh," Prowant said. "The win also helps our team come closer as a group."