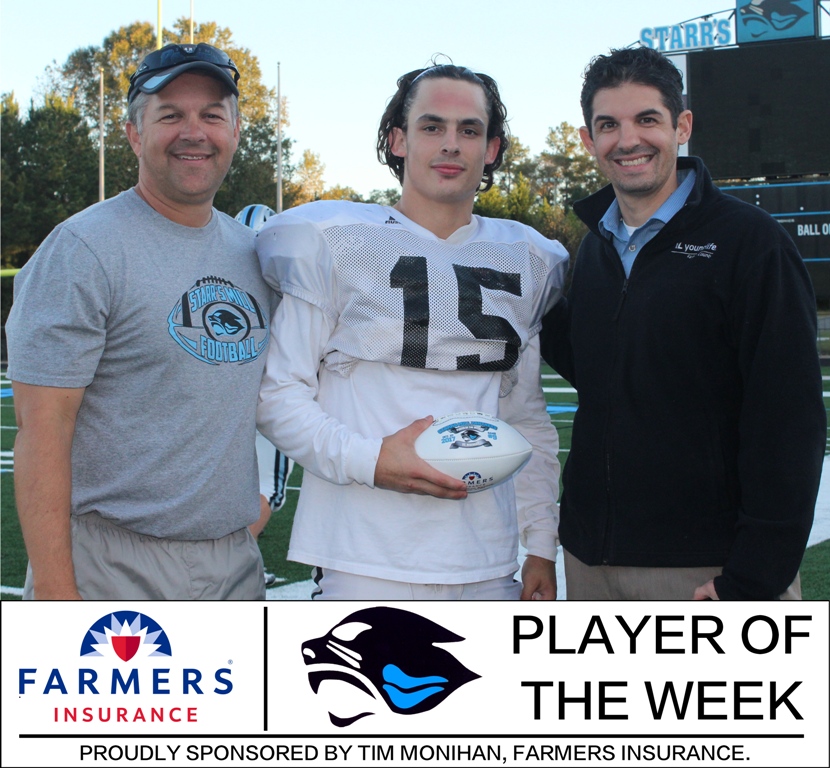 Tim Monihan / Farmers Insurance
Phillip Pfaffman
Tim Monihan and Farmers Insurance in Peachtree City awarded senior Phillip Pfaffman with the ninth player of the week award for the 2017-2018 school year.
Pfaffman has contributed to a Panther defense that boasts 12 interceptions and 7 recovered fumbles on the season.  In addition, the defense is only giving up 20.1 points per game.

"It was really exciting being able to make plays for the team," Pfaffman said. "[Last week's game against Riverdale] felt like a playoff game, so we went in with momentum and played it."
Pfaffman led the defense in last week's game where the Panthers shut down Riverdale's offense and robbed them of any significant scoring chances.
"He's passionate and loves the game," head coach Chad Phillips said. "He's always going hard, gives one-hundred percent, and he's a really good defensive player."
On Nov. 3, Starr's Mill hosts Fayette County in the Panther Stadium when the team will honor its stellar senior class.  A win will keep alive the team's chances of the No. 1 seed in region 3-AAAAA. The game starts at 7:30 p.m. with Senior Night activities beginning around 7 p.m.
"[The game against Riverdale] was a great game, and that win helps us in the region championship," Pfaffman said.