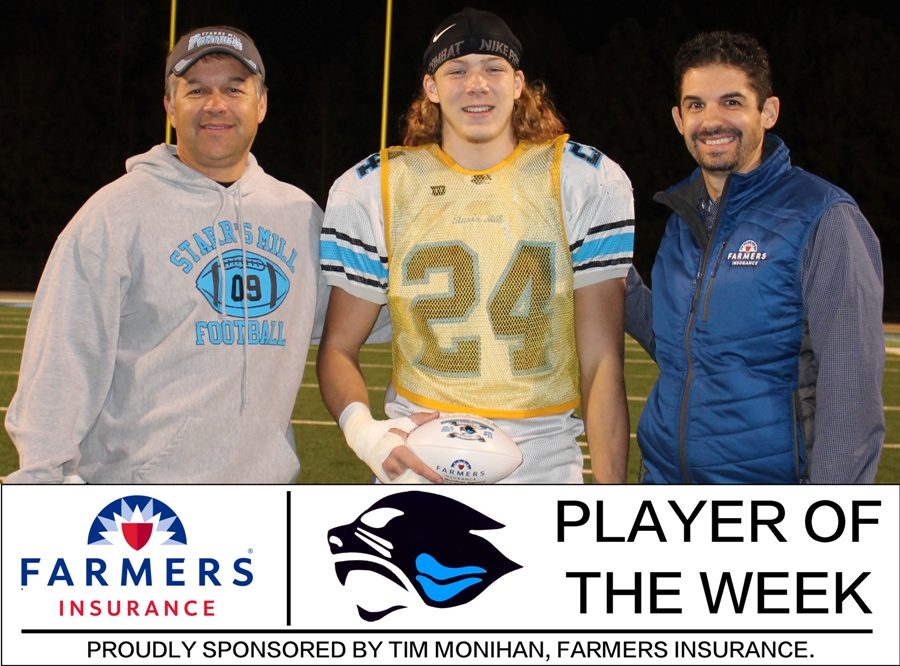 Tim Monihan / Farmers Insurance
Coltin Houser
Tuesday evening, Tim Monihan awarded senior Colton Houser with the 11th Farmers Insurance Player of the Week award for the 2017-2018 school year. This is the second time this season Houser has earned the award.

Houser runs a Panther defense that has executed 70 tackles for a loss and forced 22 turnovers so far this season. In addition, the defense is only giving up 20.2 points per game.
"When Colton decides to make a play, he will make that play. There's not many kids in high school that can block him," head coach Chad Phillips said. "He's a very explosive, fast, above-average player, and I'm very glad he's with our team."
Houser led the defense in last week's game where the Panthers shut down the Dutchtown offense and blocked a field goal preventing a tie game. Starr's Mill won 31-28 and moves on to play Bainbridge.
"There was a lot riding on that game and we want to get farther than we did last year," Houser said. "I couldn't have done what I did without the coaches and players doing their jobs."
Tomorrow night, Starr's Mill hosts the Bainbridge Bearcats in Panther Stadium. A win will push the team closer to a state title. The game starts at 7:30 p.m.
"Executing [defensive] plays were huge, and we have strong defensive players to do so," Houser said.